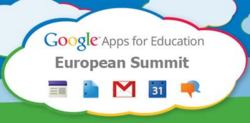 What makes Google Apps for Education even more compelling is that the licenses are free.
London, UK (PRWEB UK) 10 September 2012
The Google Apps for Education European Summit will host some of the world's leading apps experts, including Google's own staff and certified teachers and trainers, along with informative, personal sessions for teachers/lecturers, school administrators and school IT managers.
In addition there will be a 'Chromebooks playground'; a dedicated classroom with experts on hand for attendees to try out, play and learn about Chromebooks and the power they have both inside and outside of the classroom for students and teachers alike.
Google Apps for Education has brought over 16 million students and staff together in a cloud based collaborative mail environment which has revolutionized the process in which students and teachers work and interact with each other.
Gmail for education offers 25 GB of storage per user, powerful spam filtering, integrated voice/video conferencing, and a 99.9% uptime SLA. In addition users receive powerful collaboration with Drive, Calendars, Groups and Sites, all hosted by Google. What makes the proposition even more compelling is that the licenses are free.
In order to increase their reach in the educational sector, AppsCare is also proud to announce a new core partnership with Cloud Source Solutions, creator of the Course Director VLE, which will bolster their education portfolio and provide additional value with the Google Apps proposition.
AppsCare®, Google Enterprise Premier Partner (powered by Netpremacy Global Services) is a world leader in cloud services provisions, supporting over 2500 customers in 33 countries. Their fortnightly newsletter provides latest industry news, tips and 'how to' features and useful information about cloud computing, to subscribe to their mailing list click here.
Follow @AppsCare | Follow @Netpremacy