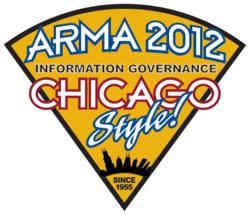 Kensington, MD (PRWEB) September 06, 2012
ARMA International, the authority on information management, has announced Infolinx System Solutions as an exhibitor at its 57th Annual Conference & Expo, to be held September 23-25, at McCormick Place in the heart of beautiful Chicago!
"In today's business environment, information governance is crucial for business function and helps keep organizations competitive and compliant," said Marilyn Bier, executive director at ARMA International. "ARMA 2012 puts the right resources and vendors at the fingertips of the professional community that is in need of their services."
The conference will feature more than 70 education programs presented by experts in the legal, information technology (IT), and information management professions, as well as an Expo Hall boasting more than 200 top-tier exhibitors showcasing the latest offerings from technology to data retention and storage.
"Conference attendees will be able to see the industry's emerging technologies and understand how to implement them into their day-to-day business strategies," said Bier. "Our primary goal is to answer the questions and pain points of today's professional that touches information management and provide them with solutions and best practices to strategically address all of their organization's information governance needs."
The ARMA International conference & expo is the premier educational event for the records and information industry. This year at ARMA 2012 more than 4,000 information management professionals from around the world will come together for unparalleled education, networking, and to discover top-of-the-line products.
For more information about ARMA International's 57th Annual Conference & Expo and to register, visit http://www.arma.org/conference!
About ARMA International
ARMA International is a not-for-profit professional association and the authority on information management and governance. Formed in 1955, ARMA International is the oldest and largest association for the records and information management profession with a current international membership of more than 10,000. It provides education, publications, and information on the efficient maintenance, retrieval, and preservation of vital information created in public and private organizations in all sectors of the economy. It also publishes the award-winning Information Management magazine.
About Infolinx
Infolinx System Solutions is a leading provider of DoD5015.2-certified enterprise physical records management software. Full life cycle records management for records centers and file rooms includes integrated Enterprise Content Management, robust searching, online requesting, complete audit history, location reconciliation, supply item ordering, retention schedule and legal holds management, integrated RFID technology, space management with charge-back functionality, extensive reporting capability, advanced security configuration, workflow email notifications, and legacy data sharing. Infolinx maintains clients within all major business segments and the public sector. Visit Infolinx System Solutions for additional information.