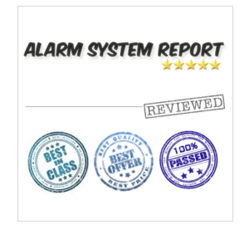 Comparing quotes is the key to saving money. Giving customers a simple way to request the best quotes from top alarm system companies is what we're providing.
Reston, Virginia (PRWEB) September 07, 2012
Home security alarms have become an integral part of the household. Every homeowner knows their home needs an alarm system, but not every homeowner has time to go looking for one.
Luckily, review websites have stepped in to help these homeowners quickly and easily find the best alarm systems for their homes. Websites like AlarmSystemReport.com have created their sites around making the home alarm system buying process easier for homeowners.
AlarmSystemReport.com has partnered with the top alarm system companies to provide quick and accurate price quotes as well. This feature can be found on every page of their website and only takes a minute to compare alarm systems quotes.
Customers simply need to find the "Compare Quotes Instantly" button to get started. Once they push this button, they'll be taken to a page where they will let companies know their property type, their property size, and their zip code. After these questions have been answered, homeowners will just need to type in their name, phone number, and email address.
As soon as the form is filled out, customers will receive quotes from the top alarm system companies on the market. This entire process only takes a minute and it can save homeowners up to 35% on their new alarm system.
Homeowners who want to learn a little more about alarm systems and what they have to offer before getting quotes can read through AlarmSystemReport.com's information pages and reviews. These pages provide valuable information on specific companies, alarm system technologies, and alarms in general.
AlarmSystemReport.com has done all the heavy lifting for the homeowner by independently auditing all of the top alarm system companies in advance. These audits were taken in secret by home security experts and were used to create rankings to determine which companies had the best home alarm systems.
These rankings were then improved upon through the use of sites like Yelp and Angie's List. Websites like these provide the non-expert opinions that are often lacking when rankings are created by experts alone. The combination of both expert opinions and non-expert opinions in one ranking system is unique to AlarmSystemReport.com and potential customers will not find features like this on the average review website.
All of these reviews and rankings are now available at AlarmSystemReport.com in an easy to read manner. Homeowners just have to scroll through the pages and click on companies that are of interest to them.
Read through all of our alarm system reviews and get instant quotes on the best home alarm system companies today by visiting Alarm System Report at AlarmSystemReport.com
###