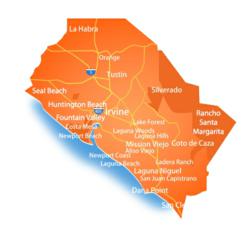 Orange County Map with interactive links and enhanced individual property pages are latest upgrade.
Laguna Niguel, CA (PRWEB) September 04, 2012
The home page of the website now features an interactive map with links to cities within Orange County. The links provide instant access to real estate searches with the corresponding city. Searches can be further refined using the "more options" button. The map includes the cities of Aliso Viejo, Costa Mesa, Dana Point, Laguna Beach, Laguna Niguel, Lake Forest, Mission Viejo, Newport Beach, Newport Coast, Rancho Santa Margarita, Seal Beach, Tustin and more.
The individual property pages have had a major upgrade and now each individual property page features nine buttons and social networking features. Property details, map, statistics, photos and closing cost option can be found in the informational buttons. Request more info, schedule appointment, send to a friend and print listing details are included in the action buttons. Social networking features includes options for tweet, linkedin, digg, reddit,facebook, pinterest, google+, stumbleupon, tumblr and more.
The first six city pages are currently under construction and are nearing completion. The site visitor is able to hone in on select neighborhoods in a short period of time using pre-progammed idx searches. Laguna Beach includes neighborhoods suchs as Emerald Bay, Irvine Cove, North Laguna, Three Arch Bay, and Top of The World. Newport Beach includes neighborhoods such as Balboa Island, Balboa Peninsula, Bayshores, Dover Shores, Lido Island, Linda Island, Newport Heights and Port Streets.
"The goal is to build a website that's informative, accurate, quick and user friendly" said Gareth Davies, the site's developer. Future plans for the website include an iphone app and an android app, enabling cell phone users easy access to the website. The website can be visited at: http://www.homesorangecounty.com