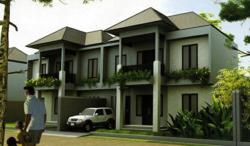 BEST PROPERTY INVESTMENT IN BALI
BALI - INDONESIA (PRWEB) September 01, 2012
Puri Garden Lovina is in a beautiful tropical setting with spectacular mountain views, just five minutes from the popular beaches of the Bali Sea. This area is famous for its dolphins, scuba diving, snorkeling, hot springs, picturesque waterfalls and Hindu temples.
Construction of the Puri Garden Lovina project - http://www.purigardenlovina.com - is well underway near Singaraja, North Bali, with residences now available for purchase at time-limited, pre-launch prices.
With luxury features unique to the North Bali region of Buleleng, Puri Garden Lovina will include up to 105 premium-quality residences to be constructed in two phases. The first phase is on track for completion in September 2013 and many local workers will continue to be employed after the construction phase.
Puri Garden Lovina is located at Br Celuk Buluh in Kalibukbuk (Lovina), near Selat, about 11 kilometres west of Singaraja, in the regency of Buleleng, North Bali. North Bali is often described as 'the original, authentic Bali' because its beautiful and pristine environment outshines the over-commercialised south.
Puri Garden Lovina, described by the developers as a sophisticated "village within a village", will have comprehensive on-site amenities, including an international supermarket, fitness and gym facilities, spa and health center. There will also be a, bar and restaurant, shops, public and private swimming pools, children's playground, a tennis court, helpdesk, maintenance, and 24-hour security.
The project developers, CV Ganesha Property, say the project offers fully-furnished, single and two story, two, three and four bedroom residences, each with a 2.5 are (2,500 square meters) till 6 are (6,000 square meters) garden and optional swimming pool. The developers are offering attractive pre-launch prices and enticements, with a number of properties already sold.
The owners of CV Ganesha Property, Made Suparsa and his wife, NI Kadek Dartini, have experience with several five star hotels in Bali's south and north.
Project Sales – Marketing & Business Development Manager, Guy Vandevijvere said that Puri Garden Lovina - http://www.purigardenlovina.com - is being designed for both Indonesian and expatriate purchasers.
"North Bali is an oasis of tranquility and still represents the authentic, 'pure' Bali," Vandevijvere said. "In Bali's north you can still find the peaceful spirituality and tranquility that you can no longer find in the busy, expensive and often gridlocked south of the island. With the government working to build a new international airport for North Bali, property prices are increasing, and are likely to continue to do so, but are still much more affordable than in the over-developed south," he said. "Now is a good time to invest in the north."
For further information, please contact: Guy Vandevijvere , Sales – Marketing & Business Development Manager, Puri Garden Lovina - Mobile : 0062 ( 0) 81 239 633 248 - Email: marketing(at)purigardenlovina(dot)com - Web: http://www.purigardenlovina.com