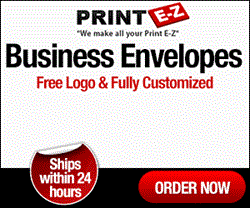 Expanding the self seal envelope range is part of our strategy on business envelopes to cover all customer needs.
Monroe, NY (PRWEB) September 11, 2012
Online envelope retailer, PrintE-Z.com launches a range of self seal envelopes to expand the range of envelopes. The company has been focusing on providing a variety of options for businesses. This variety goes beyond the ordinary and the sub categories that can be seen on the PrintE-Z.com website is more than any customer can hope for. The company provides different standard sizes of envelopes, mailing envelopes, craft envelopes, stationery envelopes and more. Each of these categories has sub categories too. And then if a customer does not find what is required, the 'Custom Quote' option exists on every page can be used. This custom quote is known to be a great option that allows the customer to get exactly what he is looking for.
PrintEZ.com understands that sealing envelopes can be messy, especially when the customer is using gum or a wetting sponge. The process of sending mails to a large number of people can take ages. This is why the self seal envelopes from PrintEZ.com come with a convenient strip that can be removed to seal the envelopes for good. Self-seal envelopes from PrintEZ.com ensure that the confidentiality of the document is maintained. There is no way that the seal can be opened without it being obvious that the envelope has been tampered with.
"Developing a larger range of seal-seal envelopes is part of the overall focus on business envelopes", says Morris Rose, the CEO of PrintEZ.com. The range includes single and double window envelopes, #6 envelopes, #8 and #9 ones too. And obviously the #10 envelopes are also covered.
The seal envelopes from PrintEZ.com can also be customized in terms of size and printing. The company offers to print the logo free of any additional charge. A business can also create unique mailing covers by adding a tagline, a witty copy or create an additional window to give a peek to the customer about what the envelope contains. With the double window, a business can also avoid extra printing costs by ensuring that the senders name appears in the second window too. These are ideal for the times when a business has to send out a large number of checks. Just print the checks using software like QuickBooks and use the double window self-seal envelope to slip it in before mailing.
These envelopes are available in the top seal option and the side seal option too. Customers can choose from regular white envelopes, gray ones and brown ones too. The retailer also provides Kraft envelopes, Tyvek envelopes cash and florist envelopes and other kinds of mailers with postage.
First time customers of business envelopes get a 10 percent discount on the purchase with free shipping – a small gesture that the company makes to show the extent to which a customer's patronage is valued. Transparency is the mainstay of the company and there are no 'hidden costs of disguised charges'. The customer gets exactly what has been detailed on the site and can be sure that there is nothing extra that will be charged to the business credit card or account.
At such great rates PrintEZ.com becomes a great option for all kinds of envelope printing work. With seal envelopes, a business can save the cost of ink cartridges too. There is no wastage of time in sealing mailers and a business can also add to a standard business mailer by customizing covers. PrintEZ.com is able to provide such great rates, deals and discounts because of the economies of scale that the company achieves by handling printing work for a large number of businesses.
To read more about Self Seal Envelopes click here http://www.printez.com/self-seal-envelopes.html
Get more information about how Print EZ offers and new launches on Business Envelopes call the company at 1-888-246-0635.
To read more about Envelopes click here http://www.printez.com/envelopes.html
and get regular updates of new offers and deals here.
Print EZ
4 N Main St.
Monroe, NY 10950
(845) 782-5832