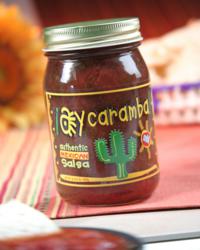 Cleveland, OH (PRWEB) September 18, 2012
Aqua Clear™ labels provide a clear, cost-effective solution for a "no label" look on packaging. Attention grabbing Aqua Clear labels, from The Kennedy Group, a leading provider of labeling and packaging solutions, enhance clarity on the package, allowing consumers to see more of the product and less of the label.
With a significant cost advantage over other clear methods, Aqua Clear labels use graphics that have a mirror-image effect to deliver a premium, upscale packaging image. While suitable for use in many markets, Aqua Clear labels are ideal for food and produce applications.
Aqua Clear labels:

Provide excellent adhesion to most plastic and glass surfaces;
Attract attention with colorful, raised graphics that are seen and felt;
Reduce inventory costs associated with preprinted containers;
Provide flexibility for regional items and test marketing;
Are compatible for use with high-speed automatic dispensing systems.
A combination of increased consumer nutritional awareness and retailers' preference for display-ready packaging in plastic containers has produced a need for growers and suppliers to differentiate their products for display.
The Kennedy Group has the technology and capacity to handle large-volume on-pack label orders. Multiple locations and the company's Vendor Management Inventory program ensure quick lead times and competitive shipping costs. The Kennedy Group's dedicated service team is available to provide a timely response to any labeling need, including turnkey solutions for in-store promotions.
For more information about Aqua Clear labels and other pressure sensitive labels available from The Kennedy Group, visit the company's website at http://www.kennedygrp.com.
About The Kennedy Group
The Kennedy Group, a family owned and operated business since 1974, is a leader in providing market-tested and innovative solutions to help customers package, promote, identify and track their products.
Headquartered just east of Cleveland, Ohio, The Kennedy Group is based in an 80,000 square foot corporate facility with global reach to serve and supply our customers in 40 states and seven countries. Our leadership and solutions contribute to the success of customers in the consumer products, automotive, material handling, biomedical, healthcare and chemical industries.
The Labeling and Packaging Division is a high-quality, low-cost producer of pressure-sensitive and roll film products. With multiple printing facilities in Cleveland, Orlando, and Pensacola, The Kennedy Group can handle large volume orders, while providing quick lead times and competitive shipping costs.
The Track, Trace and ID Solutions Division produces the flagship placards, nameplates, label holders and identification products that are applied to reusable containers, racks and storage areas. This division also provides complete RFID solutions, from initial exploratory site planning through implementation and post-implementation maintenance. Kennedy's professional RFID services include hardware, tag selection and application, software and integration.
The Direct Response Products Division is the leader in front-page advertising solutions, offering an assortment of colorful, stick-on notes, booklets, and cards that function as impactful, removable advertisements on the front pages of more than 600 newspapers nationwide with a circulation exceeding 40 million.
To learn more about The Kennedy Group and the products, services, and solutions provided by these divisions, visit http://www.kennedygrp.com.
# # #