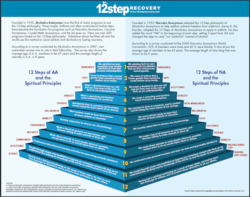 The 12 Steps and 12 Principals of Recovery have changed many lives
Seal Beach, CA (PRWEB) September 13, 2012
Millions of people are trapped in the grip of addiction. Powerless to escape, many will die from the effects of their addiction. Still others will have lives that completely fall apart and harm everyone around them due to the effects of their addiction. Now, there is a website that can help anyone who wishes to become free of their addiction. They have provided a free download of the infographic detailing the 12 steps and 12 principles of addiction recovery.
This website is available 24 hours a day to provide confidential and anonymous help to anyone that wants to learn how to use the 12 steps to end their addiction and have a chance at living again. Addictions to many substances cause harmful physiological and psychological changes to those who use them to cope with their lives. The more that someone uses a substance the more they develop a tolerance and the more that they need to use just to survive. Soon, their whole life revolves around obtaining and using the substance. Over time this causes damage that can eventually lead to death. Even if it doesn't result in death, the use of substances over time leads to the addict's life being destroyed. The addict will often damage and lose relationships with the ones that are closest to him or her. They often lose the ability to be gainfully employed because using interferes with the ability to work. It can be hard for anyone to confront their addictive behaviors and learn how to live addiction free and reclaim their lives. Thankfully, this website helps millions of sufferers by providing the help and support that they need to learn how to put the 12 principles and the 12 steps to work for them to reclaim their lives from the trap of addiction.
There are many different types of treatment and therapy for alcoholism and addictions to other substances. The 12 Steps has been shown to dramatically increase the success rate of anyone who wishes to become and remain substance free. As part of following the 12 Steps, members commit to meetings and support groups to help themselves and others. On this site they can talk with one another about their challenges and successes. Having addicts provide mutual support in the 12 Step framework has been shown to be one of the most effective tools in helping to prevent relapse. This website supplements the support that addicts receive in person so that they can receive help and support 24 hours a day that is confidential, anonymous and free.
It is free for anyone to sign up as a member to enjoy the full benefits that the website has to offer. Those interested in learning how the 12 Steps can help them conquer their addiction can get more information by visiting their website at: http://www.12steprecovery.com.
About 12 Step Recovery
12StepRecovery.com is a web-based community for all persons in any 12 Step fellowship. It is free of charge and provides a space for members to share their thoughts and feelings anonymously in a safe environment. This website provides a space to blog, a forum, a chat and other features for the 12 Step community.