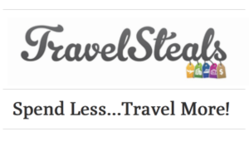 Everyone wants a Caribbean vacation, so we're dedicating a section of the site to feature heavily discounted vacations to sunny destinations.
Reston, Virginia (PRWEB) September 03, 2012
The readers at TravelSteals.com have asked for more great Caribbean travel deals and TravelSteals.com has delivered. TravelSteals.com is a massive travel deal aggregator website travelers can visit to find great deals from all of the best travel deal websites.
This website is constantly trying to improve its reach and has recently taken an aggressive approach to finding the best Caribbean travel deals. They've partnered with all of the best travel deal sites to offer exclusive TravelSteals.com discounts that can save travelers up to 80% on their next Caribbean vacation.
These deals mostly consist of four and five star hotel accommodations at exotic places, but travelers can find many US travel deals as well. For instance, a traveler might find a fantastic vacation package that gives them a wonderful stay at a Hawaiian hotel.
However, the Caribbean travel deals on TravelSteals.com really can't be beaten right now. Besides, TravelSteals.com has found that many east coasters would much rather take the short plane ride to the Caribbean for their exotic vacations rather than the long one to Hawaii.
What To Do To Find Caribbean Travel Deals At TravelSteals.com
Travelers looking to find great Caribbean travel deals at TravelSteals.com have it easy. These travelers simply need to visit TravelSteals.com and click on their "Today's Deals" button. Once a person's pointer finds its way to this button, the option to browse through Caribbean travel deals will pop up. Travelers can now click this option and browse through all of the best Caribbean vacation deals offered on all of the best travel deal websites.
Why Not Skip Over TravelSteals.com And Go Straight To The Deal Websites
TravelSteals.com only partners with safe and regularly updated Caribbean travel deal websites so visitors can look through these deals without having to worry about finding expired deals and scams. In fact, TravelSteals.com is one of the few travel deal aggregators on the web that has staff dedicated to updating and deleting any websites which may have fallen in quality. A travel deal website might be a legitimate website, but if it isn't keeping their deals updated, it isn't going to stay on TravelSteals.com.
In addition to this, TravelSteals.com has many exclusive offers that you won't find on any other website online. The top travel deals websites know that being listed in TravelSteals.com will get them more customers and as a result, these travel sites are willing to TravelSteals.com with deals they don't offer on their main website.
To take advantage of TravelSteals.com's exclusive offers, visit their website at TravelSteals.com.
###