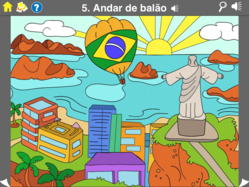 Whether you're vacationing or doing business, knowing some Portuguese is an increasingly valuable asset.
Boston, MA (PRWEB) September 05, 2012
Noyo, a Boston-based educational software company, is pleased to announce Portuguese as its next foreign language series, following the very successful Spanish release. The first Portuguese language app, Noyo Portuguese, affirms the company's mission to bridge the gap in foreign language education and innovative 21st century learning tools.
The Noyo Portuguese Language iPad app promises to be one of the most attractive tools for individual students, teachers, tutors, and parents who are trying to learn or teach Portuguese.
"It comes as a surprise to many that Portuguese is the seventh most widely spoken language in the world," notes Ted Chan, founder of Noyo. "Whether you're vacationing or doing business, knowing some Portuguese is an increasingly valuable asset."
Noyo language apps are a powerful tool for novice learners to use to quickly acquire a solid vocabulary foundation.
"With the FIFA World Cup and the next Summer Olympic Games coming to Brasil, Noyo has received requests for a Portuguese language app," adds Mike Sullivan C.L.O of Noyo.
Whether you're embarking on a vacation to Lisbon, preparing for a family vacation to Rio de Janeiro, or just looking to pick up a new foreign language, Noyo Portuguese is a handy, reliable, and affordable alternative to crowded classrooms or overpriced computer software.
Noyo Portuguese Immersion is now available for download on iTunes for $7.99.
APP FEATURES
-Over 1900 words and phrases, each reinforced by supporting audio, visual representation, and written translation
-177 custom-illustrated scenes, packed with friendly characters and amusing scenarios
-Audio by a professional voice artist who is a native Brazilian Portuguese speaker
-Built-in assessment questions at the end of each unit
-Check your stats--including how words learned, the time spent learning, and assessment scores--and email them to yourself or your teacher!
-10 targeted units, featuring vocabulary related to: Food, Ordering at a restaurant, Transportation, Cities, Vacation activities, Home and family, Sports, Animals, School, Seasons
About Noyo
Noyo is a Boston-based educational software company dedicated to providing engaging and cost effective language learning tablet apps. Noyo now offers language learning apps for Spanish, French, Portuguese, and Mandarin Chinese. All apps are created by a passionate team of educators, technologists, linguists, and designers. More information can be found at http://www.noyo.com.