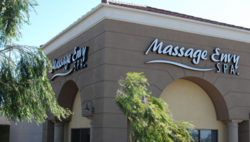 Ontario, CA (PRWEB) September 30, 2012
Massage Envy Spas, the nationwide massage and spa services company, hosted a one-day, in-clinic nationwide event called Healing Hands for Arthritis on September 19, 2012. The special promotion provided $10 from every one-hour massage and facial session as a donation to the Arthritis Foundation.
The Healing Hands for Arthritis special event is part of a continuing partnership between Massage Envy and the Arthritis Foundation. Both organizations share a common understanding of the potential for massage therapy to help mitigate the adverse effects of certain arthritis symptoms. This partnership extends to the Arthritis Foundation's Arthritis Walk® events throughout the United States of which Massage Envy is a proud national sponsor.
About Ontario Massage Envy: Founded almost a decade ago, Massage Envy is an industry leader in affordable massage and spa services. Their services are designed to promote healthy lifestyles and general wellness through massage and spa. They currently have over 800 Massage Envy and Massage Envy Spa locations within the United States, including their Ontario, California location. Massage Envy Spa-Ontario utilized professionally educated and trained staff members who meet all local and state licensing requirements. They employ customized massage therapy and Murad® Healthy Skin facials, with convenient weeknight and weekend hours. For more information, visit http://www.massageenvy.com/clinics/CA/Ontario or follow them on Facebook or Twitter.
About The Arthritis Foundation: Founded in 1948, The Arthritis Foundation is the largest national nonprofit organization for arthritis and related conditions. They are the largest private, nonprofit contributor to arthritis research in the world, with more than $450 million in research grants since their inception. Their foundation is designed to help promote arthritis public health education, influence public policy and legislation, and help improve the lives of the sufferers of the more than 100 types of arthritis and related conditions. The Arthritis Foundation complies with the National Health Council's Standards of Excellence. They are BBB Accredited. For more information, visit http://www.arthritis.org.