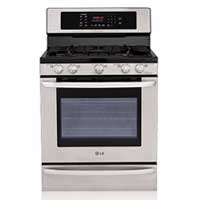 Atlanta, Georgia (PRWEB) September 03, 2012
Expert 10rate editors have chosen the Best Gas Range picks for this year in their latest Top 10 list in the large appliance arena. The best gas ranges include burners with a varying range of BTUs for different cooking styles. Another important quality is adequate oven capacities for holding multiple dishes. They've chosen their favorites based on the following criteria:
1. Number and size of burners
2. Oven capacity and baking functions
3. Appearance and style
4. Ease of use and cleaning
5. Cooking power of stovetop
6. Convenient features like delay start, storage compartment, and accessories
According to the editors two of the best gas ranges out there are the Whirlpool GGG390LX and the LG LRG3095. Concerning the Whirlpool model, they stated that, "For $1,434, Whirlpool designed a gas range with a double oven and a plethora of features to make cooking and baking easier. With two ovens, you can bake more dishes at the same time and at different temperatures. Only the lower oven has convection baking, but the three racks included fit in either the top or bottom oven."
When reviewing the LG range, editors said,"At $1,302, this freestanding gas range from LG is not cheap, but it provides superior cooking performance and a wide range of convenient features. The design is stylish and attractive, the interior blue color giving it a unique visual flavor. The cooktop burners are wide enough to hold large skillets and have a maximum power of 17,000 BTU for fast boiling."
10rate.com conducts reviews in various product and services categories and publishes "Expert Top 10 Lists for Everything in your life." The company's web site strives to "Make it Easy" to select from the hundreds of choices there are in the product and service market place. All products and services are thoroughly researched by the companies expert editors prior to receiving a rating on a 1-10 scale. In addition to product reviews the companies editors write guidelines, buying guides and articles on various topics surrounding each product or service category covered to help educate the consumer.