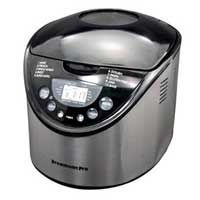 Atlanta, Georgia (PRWEB) September 06, 2012
Expert 10rate editors have chosen the Top Breadmaker picks for this year in their latest Top 10 list in the small appliance arena. Editors took into consideration that needs may vary based on your family size, experience level, and expectations from your breadmaker. They've chosen their favorite models based on the following criteria:
1. Ease of cleaning, with nonstick parts and a removable lid being especially helpful
2. A variety of baking modes for breads, cakes, jams, baguettes, pasta and pizza doughs
3. Creates bread with good texture, flavor, crisp outsides and soft insides
4. Dual paddles for higher rises and more thorough kneading
5. Ease of programming, with clear buttons and a display
6. A comprehensive instruction and recipe book
7. Additional accessories like measuring cups and spoons
8. Different loaf size and crust shade selections
According to the top 10 list, two of the best breadmakers currently on the market are the Panasonic Breadmaker Review and the Breadman Breadmaker Review. Concerning the Panasonic model, they stated that, "A high quality, easy-to-use automatic breadmaker from Panasonic, this model comes with recipes for 40 types of bread, including white, wheat, multigrain, French, and fruit breads. Its special features make the process easier for you. For instance, a buzzer sounds when it's time to add raisins and other fruits into the dough, and the machine automatically adds yeast from a special dispenser. "
When reviewing the Breadman breadmaker, editors said,"this Breadman stainless steel breadmaker creates a variety of delicious homemade bread. Equipped with 16 pre-programmed settings, including whole wheat, super rapid, and gluten-free, its LCD control panel is easy to navigate and program. Sleek, sturdy, and quiet in operation, you can watch the bread baking process through the viewing window."
10rate.com conducts reviews in various product and services categories and publishes "Expert Top 10 Lists for Everything in your life." The company's web site strives to "Make it Easy" to select from the hundreds of choices there are in the product and service market place. All products and services are thoroughly researched by the companies expert editors prior to receiving a rating on a 1-10 scale. In addition to product reviews the companies editors write guidelines, buying guides and articles on various topics surrounding each product or service category covered to help educate the consumer.