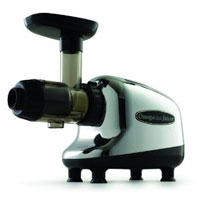 Atlanta, Georgia (PRWEB) September 17, 2012
Expert 10rate editors have chosen the Top Juicer picks in their latest Top 10 list in the small appliance arena. If you are tired of plain old coffee or looking for a healthier drink option in your diet, a juicer may be the right a step in the right direction. There are many types of juicers out there capable of many different things at many different price points. Choosing which juicer that will be right for you can be quite the task. Editors used the following criteria in their judgments on which juicer is the best on the market.
1. How much juice it yields
2. Pulp dryness (indicating minimal food waste)
3. Ease of cleaning
4. Whether the feed tube fits whole produce
5. Noise and vibrations
6. Motor power
7. Price and value
According to the top 10 list, two of the best juicers currently on the market are the Breville 800JEXL and the Omega J8005. Concerning the Breville juicer, reviewers stated that, "A highly efficient juicer from Breville at $299.99, this model sits gleaming and powerful looking on the counter. Its looks aren't misleading: the Breville 800JEXL has a 1,000-watt motor that extracts the most juice from foods, leaving whatever pulp is left very dry. With a three-inch circular feed tube, you can stick in whole carrots, tomatoes, apples, and oranges with little prep work chopping or cutting them into smaller pieces."
When reviewing the Omega juicer, editors said, "If you're interested in an all-purpose juice extractor that handles wheatgrass and leafy greens as well as fruits and vegetables, then you'll be happy with the Omega J8005. Relatively inexpensive for a masticating juicer at only $259.99, the machine's juicing process works by chewing up the fibers in food, leaving precious nutrients and enzymes intact in the juice. Because it doesn't rely on centrifugal force, there's no foaming, either."
10rate.com conducts reviews in various product and services categories and publishes "Expert Top 10 Lists for Everything in your life." The company's web site strives to "Make it Easy" to select from the hundreds of choices there are in the product and service market place. All products and services are thoroughly researched by the companies expert editors prior to receiving a rating on a 1-10 scale. In addition to product reviews the companies editors write guidelines, buying guides and articles on various topics surrounding each product or service category covered to help educate the consumer.