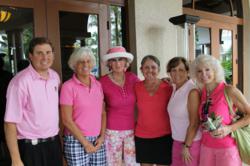 By actively volunteering in the community and giving back of their personal time and talents, Fiddler's Creek residents often discover that they are the ones who "receive" by helping others.
Naples, Florida (PRWEB) September 07, 2012
Residents of the luxury, master-planned community of Fiddler's Creek are active volunteers, giving back to the local community by supporting and participating in many worthwhile causes.
Among the most eagerly anticipated volunteer activities is the annual Toy Drive, which collects toys, games and other gifts for less fortunate children at Manatee Elementary School. This past year, a record number of items – about 400 – were delivered to the school. What makes this drive extra special is that it is a combined effort of residents and employees of Fiddler's Creek.
Residents also are involved in the Adopt-A-Highway program, which comprises a two-mile stretch of State Road 951 from the entrance of Fiddler's Creek to Manatee Road. These volunteers regularly pick up, bag and discard all the litter found on both sides of the roadway. On any given clean-up day, it's not uncommon to fill more than a dozen trash bags with debris.
Homeowners also have the opportunity to learn vital safety information by participating in the Community Emergency Response Team (CERT). Under the instruction of the East Naples Fire Control & Rescue District, the volunteers learn about disaster preparedness for hazards that may impact the community. They also receive training in basic disaster response skills such as fire safety, light search and rescue, team organization, and disaster medical operations.
A special program that draws Fiddler's Creek residents out to volunteer their time is the Tutor Corps. Under the Tutor Corps, residents act as personal mentors to assist high school tutors who are hired by the Guadalupe Center's Early Childhood Education Program. This important program helps at-risk children of Immokalee break the cycle of poverty through education.
Another cause that is near and dear to the hearts of Fiddler's Creek residents is breast cancer awareness. The ladies of Fiddler's Creek recently hosted a "Think Pink" golf event and sold raffle tickets with proceeds going toward the Bosom Buddies Foundation. Participants wore pink outfits to show their support for all women affected by breast cancer and The Club was decorated in pink.
By actively volunteering in the community and giving back of their personal time and talents, Fiddler's Creek residents often discover that they are the ones who "receive" by helping others.
Located just off Collier Boulevard between Naples and Marco Island, Fiddler's Creek is an award-winning community that has recently been selected by the readers of the Naples Daily News and Bonita Daily News as "Best Community" in the 2012 Southwest Florida Readers' Choice Awards.
The luxury, master-planned community comprises of nearly 4,000 acres and is zoned for 6,000 residences. With approximately 1,700 residences completed, Fiddler's Creek has about 4,300 residences yet to be built. With a very low density level of 1.6 homes per gross acre, the community will have about 100 distinct neighborhoods upon completion. Less than a third of Fiddler's Creek will be developed for residential use, while the remainder of the land is dedicated primarily to nature reserves, lakes, parks, golf courses and recreational areas.
Amenities include the 54,000-square-foot Club & Spa, Fitness Center, Multi-Pool Swimming Complex, Tennis Courts, Tot Lot and Restaurants. Residents also have the opportunity to join The Golf Club, and The Tarpon Club, offering the opportunity for a beach and boating lifestyle.
Pre-construction residences at Fiddler's Creek currently start in the $300s and are being offered by three well-respected homebuilders - D.R. Horton, Lennar Homes and Stock Construction.
For more information, call 239-732-9300, stop by the Fiddler's Creek Information Center located at 8152 Fiddler's Creek Parkway or visit the community online at http://www.fiddlerscreek.com.