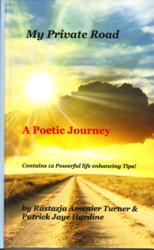 Everyone has a private road in their life. Its a place deep in our hearts. Its a pathway that keeps us believing and gives us hope.
Pittsburgh, Pennsylvania (PRWEB) September 01, 2012
"Homicide can induce moral health problems within a community, especially the desensitization of murder through repeated happenings." says Rastazja Amenier Turner and Patrick Jaye Hardine, the authors of "My Private Road"; a motivational poetry book filled with inspirational tips. Rastazja's mother, Janice Latoya Martinez, also wrote poetry and was convicted of murdering her 10 month old son in 2003 in Pittsburgh, Pa( Court Of Common Pleas Of Allegheny County, Docket Number: CP-02-CR-0013413-2003, OTN: C5032915). Rastazja says that losing her mother and brother inspired her to write and finish this book. According to the city of Pittsburgh's Department Of Public Safety's Annual report there were 69 homicides in Pittsburgh in 2003.
The book "My Private Road" contains 26 poems that paint a variety of life experiences mixed with inspirational tips. It's poems describe situations ranging from poverty and crime to religion and politics. "These are some things many people encounter on life's road." says Patrick Hardine. He goes on to say "Everyone must walk the road of life. The road is not always an easy one to travel, but it is one we must all journey down. We sometimes meet up with oversized bumps and potholes in life's road. That's when each one of us must take a detour through our own private road. A road that will help us get through life's everyday stresses. For some that road may be a talent or skill; while for others it may be a religion or family activities.".
Because of Rastazja's own dysfunctional childhood she dedicated this book to all children who have or are growing up in dysfunctional families. A portion of the book's proceeds will benefit various children's organizations. Patrick Jaye Hardine, also a poet, assisted Rastazja in writing the book. "I was moved by her life story and poetic passion for creative writing." says Patrick. The book was titled "My Private Road" because both authors say that writing poetry was a private road that helped them through some tough times in their individual lives. The book is currently only available online at http://www.myprivateroad.com, but they plan on releasing another edition sometime in 2013 that will be readily available for stores.
"This book offers a variety of poems and life enhancing tips that relate to every day life experiences" says Reverend Charles David Wright. He goes on to say "It addresses things that cause a decline in morality, such as low self esteem, in a unique, entertaining, and heartfelt way.".
Excerpt From Book: "This Is Me"
The things I like, you might not like
To call me wrong is just not right
Both of us must understand
The two of us are both God's plan
The way I am is how I'll be
All my life I'll live as me
The things I do, you might not do
Because this is me and you are you
Both of us are not the same
Be yourself without no shame
Look at me and understand
I love to be the way I am
No matter what, I'm gonna be
The way I am because this is me
In the book , My Private Road, Rastazja Amenier Turner and Patrick Jaye Hardine sets out to provide poetic inspiration for all walks of life. Through poems and inspirational tips they contribute tools that everyone can carry on their personal journey down the road of life. Their writings mirror the sheer reality of everyday common happenings. This is a book for poetry lovers of all ages. For more poetry and additional information please visit the website at http://www.myprivateroad.com
Press Contact: PATRICK j. HARDINE
Books Name: My Private Road
Telephone Number: 888-412-0433
Fax Number: (412)489-0832
Email Address: Patrick(at)myprivateroad(dot)com