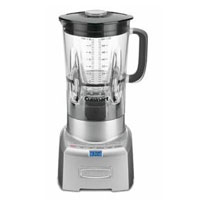 Atlanta, Georgia (PRWEB) September 04, 2012
Expert 10rate editors have chosen the Best Blenders and Best Food Processors in their latest Top 10 list in the small appliance arena. Food processors and blenders can be indispensible tools in the kitchen. These appliances make what would probably be impossible by hand easy and fast. 10rate editors help to shine the light on which are the best and what they are the best for. They rated them by looking at the pros and cons for each model then decided the winners.
While reviewing blenders, 10rate editor said, "The best blenders have a motor powerful enough to chop and pulverize tough foods quickly without overheating or producing an odor. The containers should be strong enough to resist cracking or scratching but lightweight enough to hold and pour easily. The best blades are stainless steel, which cut through ice easily and don't rust or become dull. If you know what you expect from a blender and how much you plan to use it, you can find a model with the right capacity and functions to suit your needs."
When it came to food processors, editors noted some of the features that were most important. "What size food processor to buy depends on your family size and how regularly you plan to use the appliance. Singles and couples may be satisfied with a miniature model that holds just a few cups of food. Larger families should look for large-capacity food processors, some of which can hold up to 14 cups of food. Also consider how much you'll use the food processor as you look at models with various special features and wattage levels: Don't pay extra for features or power you don't need."
According to the top 10 list, one notable blender was a Blendtec Blender. "With a powerful 3 horsepower direct-drive motor, this Blendtec blender thoroughly blends and crushes food with stainless steel blades moving at 29,000 rpm. One of the most convenient features about this blender is that it automatically shuts off at the end of its preprogrammed cycles so you can leave the room while it's running."
One food processor worth looking at was the Cuisinart Food Processor. "A medium-size appliance for an affordable price ($99.95), this Cuisinart food processor has the power to handle complicated tasks while still small enough not to take over all your counter space. It cuts food into fairly uniform pieces and kneads and mixes bread well. As long as you feed food into it a bit at a time, you won't overload it or strain the motor."
10rate.com conducts reviews in various product and services categories and publishes "Expert Top 10 Lists for Everything in your life." The company's web site strives to "Make it Easy" to select from the hundreds of choices there are in the product and service market place. All products and services are thoroughly researched by the companies expert editors prior to receiving a rating on a 1-10 scale. In addition to product reviews the companies editors write guidelines, buying guides and articles on various topics surrounding each product or service category covered to help educate the consumer.