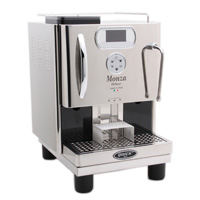 Atlanta, Georgia (PRWEB) September 28, 2012
Expert 10rate editors have chosen the Top Super Automatic Coffee Makers in their latest Top 10 list in the small appliance arena. Enjoying a good cup of coffee is one thing, but having the best cup of coffee made for you at home is as good as it gets. Super automatic coffee makers do just this in the comforts of the home kitchen. These machines do not come cheap, but for any coffee aficionado it is the best it gets. The following criteria were used by 10rate editors to compile the Top 10 List:
1. Varied programming options
2. Intuitive controls and a display screen
4. Easy-to-clean parts and automatic cleaning cycles
5. Quick heat-up and steam
6. Relatively quiet grinding
7. One-touch controls for espressos, lattes, cappuccinos, macchiatos, etc.
According to the top 10 list, two of the best super automatic coffee makers currently available on the market are the Jura Impressa C5 and the Quick Mill Monza. Concerning the Jura super automatic coffee maker, reviewers stated that, "A sleek, compact machine designed to make you high-pressure-brewed coffee in just a minute, the Jura Impressa C5 makes programming your coffee or espresso a simple matter of turning a few dials. It accepts either grounds or beans and makes a variety of coffee, from ristrettos and espressos to lattes and cappuccinos."
When reviewing the Quick Mill Monza, editors said, "A deluxe super automatic espresso machine suited for both commercial and home use, this Quick Mill Monza model has a lot of convenient programming options, all highlighted on the bright LED display. While the coffee-making process is taken care of for you, you still have control over a host of factors, including the temperature, brewing time, and cleaning cycles. The stylish machine even lets you add decaf pre-ground coffee if you so desire."
10rate.com conducts reviews in various product and services categories and publishes "Expert Top 10 Lists for Everything in your life." The company's web site strives to "Make it Easy" to select from the hundreds of choices there are in the product and service market place. All products and services are thoroughly researched by the companies expert editors prior to receiving a rating on a 1-10 scale. In addition to product reviews the companies editors write guidelines, buying guides and articles on various topics surrounding each product or service category covered to help educate the consumer.