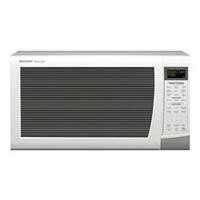 Atlanta, Georgia (PRWEB) September 27, 2012
Expert 10rate editors have chosen the Top Microwaves in their latest Top 10 list in the small appliance arena. As reviewers looked at various counter-top microwaves, many factors came into consideration. Ease of use is is probably the most important feature in a microwave; many top-line models try to impress you with countless options, but they run the risk of being downright overwhelming. Frivolous "bells and whistles" add little to no value to a confused consumer. At the same time, a variety of options can be favorable depending on the execution. Extra features give a microwave versatility and usefulness that make it a wonderful kitchen tool. The microwaves on this list are suitable for any budget. The following are other criteria used by 10rate editors to compile the Top 10 List:
1. Size and appearance
2. Cooking time
3. Quality construction
4. Heating performance
According to the top 10 list, two notable microwaves currently available on the market are a Whirlpool microwave and a Sharp microwave. Concerning the Whirlpool microwave, reviewers stated that, "A stable, recessed glass turntable means more space in this Whirlpool countertop model. With a Maxwave cooking system, food heats up evenly and quickly. It's a small and boxy model, but 1,200 watts gives it powerful cooking abilities. The controls are simple and easy to program. For convenience, automatic sensors make reheating and defrosting food easier ."
When reviewing the Sharp microwave, editors said,"For only $187.14, the Sharp R-530E is a powerful performer good for families whose appliances get a lot of use. The sensor features are fairly reliable, automatically heating or reheating food to the right temperature and avoiding cold spots. A variety of colors—metallic black, white, or stainless steel—gives you the option to match it with any style kitchen. Best of all, with a larger-than-average capacity and a generous glass turntable, this microwave can fit large pans and dishes with ease."
10rate.com conducts reviews in various product and services categories and publishes "Expert Top 10 Lists for Everything in your life." The company's web site strives to "Make it Easy" to select from the hundreds of choices there are in the product and service market place. All products and services are thoroughly researched by the companies expert editors prior to receiving a rating on a 1-10 scale. In addition to product reviews the companies editors write guidelines, buying guides and articles on various topics surrounding each product or service category covered to help educate the consumer.