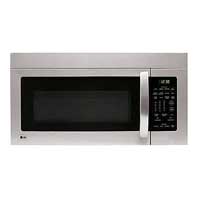 Atlanta, Georgia (PRWEB) September 12, 2012
Expert 10rate editors have chosen the Best Microwaves, Best Over the Range Microwaves, and Best Budget Microwaves in their latest Top 10 list in the small appliance arena. As reviewers looked at various microwaves, many factors came into consideration. The differences in the categories become very important when shopping for the right microwave. 10rate editors help consumers choose the right microwave by weight pros and cons of each microwave then declaring winners and awarding some with special honors.
When looking at microwaves that fit any budget and various uses, editors noted features they used to compile their list. "As we looked at various countertop microwaves, several factors came into consideration. Ease of use is always important; many top-line models try to impress you with countless options, but they run the risk of overwhelming the user and being stuffed with frivolous "bells and whistles." At the same time, a variety of options are favorable, giving the microwave versatility and usefulness in a wide range of settings. Other basic qualities we took into account while compiling this top 10 list include:
1. Size and appearance
2. Cooking time
3. Quality construction
4. Heating performance"
As editors reviewed the Best Over the Range Microwaves, they looked for, "One of the standout features of an over-the-range microwave is the space saving opportunity. Placing the microwave above the oven frees up a lot of useful counter space. Beyond the space saving, over-the-range microwaves were put to the usual rigorous testing by 10rate editors to find the best ones. The following are other criteria used by 10rate editors to compile the Top 10 List:
1. Size and appearance
2. Even cooking
3. Top quality material used in construction
4. Power to heat food fast"
Editors reviewed Best Budget Microwaves last and said, "If you're looking for a high-quality microwave on a budget, you know that you don't want to sacrifice performance for price. Efficient microwaves heat quickly and evenly and have adequate capacity, convenient one-touch cooking options, easy-to-use controls, and reliable, durable construction. The following microwaves, both countertop and over-the-range models, have their share of great qualities, and the most expensive selection is roughly $250. See the budget microwave comparison and ratings below with a link to the full review of each."
10rate.com conducts reviews in various product and services categories and publishes "Expert Top 10 Lists for Everything in your life." The company's web site strives to "Make it Easy" to select from the hundreds of choices there are in the product and service market place. All products and services are thoroughly researched by the companies expert editors prior to receiving a rating on a 1-10 scale. In addition to product reviews the companies editors write guidelines, buying guides and articles on various topics surrounding each product or service category covered to help educate the consumer.