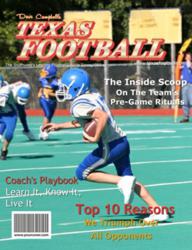 This product is so unique...it is a guaranteed great gift. The person I gave it to, loves it and all his friends and family love it
Wilton, CT (PRWEB) September 20, 2012
Since 1960 "Dave Campbell's Texas Football" has been the leading authority on football in the Southwest from high school through to the pro level. Coming out just twice a year, the magazine is a highly anticipated event each summer with a particular interest in who will grace the cover of the "Bible of Texas Football".
With a new relationship with YourCover, "Texas Football" fans can now see themselves, their son, friend, coach or family member on a personalized "Texas Football" magazine cover.
YourCover has been offering consumers the opportunity to create personalized magazine covers featuring their photos and custom headlines since 2000. During that 12 year period, YourCover has increased the number of custom magazine cover designs to over 80. With the newly announced partnership with Dave Campbell's Texas Football, YourCover is thrilled to be able to offer consumers the opportunity to be on this powerhouse legend of Texas Football magazine publishing.
For those who love Texas Football, whether playing, watching or coaching, being able to appear on a DCTF magazine cover is a unique and memorable opportunity. Consumers simply upload a photo to the Texas Football magazine cover template. Each headline can then be personalized to be all about that player, team or coach including team names, statistics and special memories. The personalized magazine cover can be purchased as a photo file download for instant self-printing or YourCover can print (and frame) the magazine cover for shipment.
The personalized Texas Football magazine cover can be used as a team gift, coach gift, a gift for graduating seniors, most valuable player or for celebrating a winning record or championship. In addition to digital downloads for self-printing, the magazine covers can be purchased as photo prints (with or without frames), as well as printed on posters, mugs, t-shirts or mouse pads.