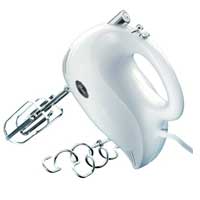 Atlanta, GA (PRWEB) September 21, 2012
Expert 10rate editors have chosen the Top Hand Mixers and Top Stand Mixers in their latest Top 10 list in the small appliance arena. Mixers are designed to be the ultimate helper in the kitchen. They take the tasks of making things dough and batter and turn them into an easy day in the kitchen. Hand mixers and stand mixers alike shed time and frustration off of any recipe. 10rate editors help to shine the light on which are the best and what they are the best for. They rated them by looking at the pros and cons for each model then decided the winners.
While reviewing hand mixers, 10rate editor said, "Hand mixers are a great alternative to their stand mixer counterparts. While an expensive model with multiple speeds is attractive for the versatility it can provide, a quality hand mixer should also start with at least one slow setting. At the same time, there should be a motor powerful enough for thick food like dough, hardened butter, and mashed potatoes. To select our top 10 hand mixers, we considered several factors, including:
1. Wattage of motor
2. Number of speeds
3. Cleanliness when mixing
4. Weight and handle grip
5. Durability and strength of beaters
6. Ease of cleaning
7. Available accessories like whisks, dough hooks, and milkshake mixers
8. Value and price."
When it came to stand mixers, editors noted some of the features that were most important. "The stand mixers that rated the highest with us possessed the following qualities:
1. A powerful motor capable of mixing light and heavy loads
2. Multiple speeds that provide versatility
3. A slow start that prevents food splatters
4. Durable, sturdy construction and accessories
5. Convenient, easy-to-clean attachments like beaters, whisks, and dough hooks
6. Bonus features like pour guards and recipe books
7. Effective mixing action that reaches all areas of the bowl
8. A head that tilts back for easy bowl access
There are competent stand mixers that cost less than $100 and can handle the basic mixing functions. However, the most powerful models capable of handling tough tasks like kneading dough typically cost between $250 and $300."
According to the top 10 list, one notable hand mixer was a Cuisinart hand mixer. "Capable of mixing both light powders and thick cookie dough, this Cuisinart hand mixer has a sleek, compact build. The white handle is easy to grip, whether you're right- or left-handed, and a shiny chrome band around the base adds an attractive touch. The accessories, the beaters, whisk, and spatula, are dishwasher friendly."
One stand mixer worth looking at was KitchenAid Stand Mixer. "A strong, capable standard mixer, this KitchenAid model has a capacious bowl that can hold enough dough for two bread loaves. The sturdy beater is great for mixing batter of varying textures; the whip handles lighter substances like eggs and mayonnaise."
10rate.com conducts reviews in various product and services categories and publishes "Expert Top 10 Lists for Everything in your life." The company's web site strives to "Make it Easy" to select from the hundreds of choices there are in the product and service market place. All products and services are thoroughly researched by the companies expert editors prior to receiving a rating on a 1-10 scale. In addition to product reviews the companies editors write guidelines, buying guides and articles on various topics surrounding each product or service category covered to help educate the consumer.