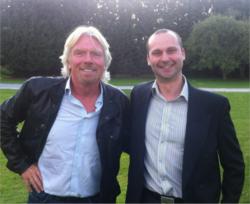 Birmingham, UK (PRWEB) September 04, 2012
A cashback website has featured in The Sunday Times "Fast Track 100" of the country's fastest growing companies, after it applied Conversion Rate Experts' scientific approach to optimizing its conversion rates.
Top Cashback is a free cashback website which gives its customers rebates on their purchases made through affiliated online retailers. Given the current economic climate, Top Cashback's owners were perplexed that visitors to their site weren't signing up, and existing customers weren't making better use of the service.
The company approached Google-authorized consultancy, Conversion Rate Experts (CRE), for help. Adam Bullock, Head of Operations at Top Cashback, said, "Straight away, we could see the graph going up and the significant impact that their changes had made… As well as the increase in revenue and the increase in members, our sales nearly tripled: we became the UK's fifth-fastest growing company."
The exact steps they took to do it have now been published in a detailed new report created by Conversion Rate Experts. The full report can be seen at http://www.conversion-rate-experts.com/top-cashback-case-study/
For further details, or to arrange an interview with Conversion Rate Experts, call Dr Karl Blanks on 0203 368 6212.
NOTES TO EDITORS
1. Founded in 2006 by Dr Karl Blanks, a Cambridge University rocket scientist, and Ben Jesson, a web marketing expert, their clients include the likes of Apple, Google, Sony, Vodafone, SEOmoz and SEO Book, as well as a number of leading marketing agencies and some exceptional forward-thinking small businesses.
2. Conversion Rate Experts was the first Google Certified Partner in Europe.