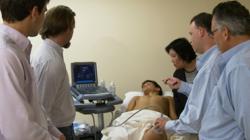 Anesthesia providers will receive personalized instruction during the hands-on sessions
Stamford, CT (PRWEB) September 03, 2012
At the annual meeting of the American Society of Anesthesiologists (ASA) in Washington, DC in October, Theresa Bowling, MD, will be introducing attendees to an upcoming course coordinated by Stamford School of Regional Anesthesia (SSRA).
The next one-day course, "Ultrasound Guided Regional Anesthesia and Acute Pain Management," will take place on November 17 and focus on catheter placement and development of a robust acute pain and nerve block program. The course directors and distinguished faculty will teach participants how to perform nerve blocks within the context of a catheter program. The curriculum has been designed in accordance with the ASRA/ESRA Joint Committee's recommendations for ultrasound guided regional anesthesia. Participants will receive up to 8 AMA PRA Category 1 credits.
"With CMS planning to reduce Medicare and Medicaid payments to hospitals with poor pain control scores—as reflected by patient responses in the HCAHPS survey—it is imperative that anesthesia providers proactively improve their pain management services," says Dr. Bowling, SSRA Co-founder, Vice-chairman of the Department of Anesthesiology and Director of Regional Anesthesia at Stamford Hospital and Medical Director of the Tully Center, the seminar venue. "Participants will learn more than how to use ultrasound for performing regional nerve blocks, as we will also address strategies for launching a successful ambulatory nerve block catheter program at their own hospitals."
"Anesthesia providers will receive personalized instruction during the hands-on sessions," says Dr. Steven Finkel, Co-founder of SSRA and Co-director of Regional Anesthesia at Stamford Hospital, "and we have added follow-up components that we call 'The Stamford Advantage' to the course."
Each attendee will receive a proprietary USB drive that includes copies of each presentation in PowerPoint format, and access to a post-conference webinar for answers to questions that arise after the course. Also included is six months of free access to SSRA's video archives and the protocols, policies, and paperwork needed to launch a successful continuous nerve block program." Additional personalized instruction and live clinical observation are available through Stamford Hospital.
"These value-added resources and support are critical to the success in applying what participants have learned," Dr. Bowling adds. "SSRA is grateful to I-FLOW®, Arrow®, and Teleflex® for providing educational grants that support our mission to train anesthesia providers in ultrasound guided regional anesthesia and acute pain management."
Anesthesiologists, nurse anesthetists, anesthesia residents, acute pain physicians and nurses, and nerve block program nurses can visit SSRAUSA.com to download a brochure that includes full details on the course, including its educational objectives and hotel information, and to register for the course online. The brochure includes a form that can be used for registering by mail.
"Class size is, understandably, limited, and we expect a high demand for the November session, so I would advise that providers reserve their place early," says Dr. Bowling. A 10% discount is offered to participants who register more than 30 days in advance of the course.