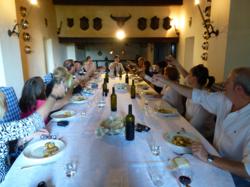 "Il Campo/Cucina is more than a cooking school. It is an infusion of Tuscan culture where you experience the heart and soul of Italy and the sheer joy of cooking Tuscan style. Bravo!"
(PRWEB) September 25, 2012
Starting this fall, culinary adventurers at Marlane Miriello's IL CAMPO/CUCINA, an immersion cooking school in Tuscany, will be given the royal treatment. They will roll up their sleeves and cook alongside a real Italian count — Count Andrea Pannocchieschi d'Elci – whose noble family title goes back to the 12th century.
This extraordinary experience begins in a tiny and truly magical Tuscan village, Radicondoli, just west of Siena. A hidden jewel in a pristinely preserved and beautiful part of Tuscany, Radicondoli is home to 681 villagers. Just a few miles away sits Villa Anqua (population 5), the 2200-acre estate of the Pannocchieschi family, and the new headquarters of Il Campo/Cucina, founded three years ago by Californian Miriello and her Radicondolese business partner, Giovanna Hipting.
Hands-on cooking lessons in groups of no more than twelve create a warm, convivial atmosphere ideal for learning the true Tuscan way, a lifestyle centered around family, community and traditional recipes featuring fresh, seasonal, local ingredients grown in home gardens (campi). Classes and group dinners take place in a 500-year-old converted granary at Anqua or beneath the estate's centuries' old oak tree or in romantic locations throughout the village and countryside. These include Count Andrea's own villa and farmhouses, a wine cellar near an abandoned castle, farm kitchens and trattorias in Radicondoli and venues in nearby Siena and San Gimignano.
Count Andrea, 44, is a leading figure in the sustainability movement in Italy and lives his values as a farmer, wine-maker, and green energy entrepreneur. He is President of the Cinta Senese Consortium, a group dedicated to breeding the once nearly extinct white-belted pigs, and he has installed a $5 million solar panel field and hi-tec greenhouses amid the forests of his estate, installations that generate electricity and create jobs for the village. Count Andrea is especially proud of his large vegetable garden from which ingredients for the classes are harvested. "Market visits" mean a stroll into the campo to harvest sun-ripened tomatoes, eggplants, zucchini, greens, potatoes and more. This is zero-kilometer cooking at its best.
Anqua is also the prime place in the region to hunt local mushrooms—porcini and ovuli. In October IL CAMPO will feature special dishes with these prized ingredients. Guests will be invited to tour the estate grounds and dine in the Count's rustic villa dining room, adorned by a row of wild boar's heads mounted over a massive fireplace.
"Culinary Adventures with an Italian Count" offers consummate culinary thrill-seekers a rare opportunity to share recipes, dine with an Italian nobleman, and experience how ancient traditions dovetail with today's slow food and sustainability movements. Visit the IL CAMPO website for more information, photos and a list of classes for fall 2012. http://www.ilcampoitalia.com
Telephone 858-375-5757
COMING IL CAMPO/CUCINA CULINARY ADVENTURES:

Transformational Yoga for Writers June 15-21, 2013
http://www.ilcampoitalia.com/program/special-offerings/
Within a five-hundred year old granary at Villa Anqua, Anne Marie Welsh will nourish body and soul, guiding you through six days of yoga asanas, meditations, nature walks, workshops, writing exercises, and private conferences designed to tap the creative potential that will transform your writing and may change your life.
July 20-26, 2013: Savor--Mindful Eating Retreat in Tuscany with Erica Rayner-Horne
http://www.ilcampoitalia.com/coming-events/savor-mindful-eating-retreat-july-20-26-2013/
Slow down and let this glorious medieval Tuscan village restore you to balance and harmony. Awaken your senses in the sun drenched beauty of an unspoiled landscape. Eat fruits, vegetables, cheeses, wine and olive oil produced on the Anqua estate or in nearby Radicondoli. Cook with village mamas and discover the simple pleasures of eating well. Each day we'll practice deeply relaxing mindfulness meditations that open your senses and help you reconnect with inner peace and tranquility. There will be plenty of time for hiking, journaling and exploring the area as you reset your awareness and create a new appreciation for food and nourishment.
Palio Tour August 10-17, 2013
http://www.ilcampoitalia.com/coming-events/palio-adventure-summer-2013
Count Andrea Pannocchieschi d'Elci will host Il Campo/Cucina participants at his family's Palazzo Pannocchieschi, the original town hall of Siena and the oldest building on the famous Piazza del Campo. The noble palazzo has the best view of the world's most exciting and famous horse race, the Palio di Siena. Previous Palio guests at Palazzo Pannocchieschi have included Britain's Princess Margaret, former prime minister Tony Blair, rock musicians Sting and Mick Jagger and actor Mel Gibson.
The week will include six nights' accommodations in and around Anqua, the count's country estate near the village of Radicondoli; participation in an exclusive contrada dinner the night before the race; viewing of the final time trials as well as processions and pageantry from Palazzo windows the day before the race and viewing of the race from the Palazzo followed by a formal banquet with the Count in his Siena dining room.