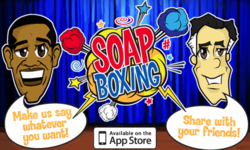 In SoapBoxing, candidates face the issues you choose. Create the debate that's on your mind!
Pittsburgh, PA (PRWEB) September 05, 2012
Cepstral introduces SoapBoxing, http://www.soapboxinggame.com, the first political app where the candidates speak voters minds! Users write and direct their own presidential candidate dialogue to take on friends and foes. The app creates a video animation to share on FaceBook, YouTube, or save to an iPhone.
Cepstral LLC, a leading speech technology firm, launched SoapBoxing game on the Apple iTunes store this week. The iOS application was co-developed with Evil Genius Designs, a game developer and mobile technology firm. "We got the idea from a demonstration voice emulating President Obama we had done for demonstration purposes, then realized that we had a pretty good Romney voice, too," said Cepstral CEO Dan Bagley. "We decided we'd try to build an app to give people a voice – you can make the candidates have real debates that you want to see."
Cepstral has the most variations on English text-to-speech voices in the industry, and is expert in development of custom voices. "We started with the idea of demonstrating technology – but it became a fun project we think has great legs for social media expression," Bagley says. "Our plans following the election are to pit world figures and other contentious personalities to give life to debates. They may include Putin and others, since we have some great character voices that could play these roles well."
Cepstral makes text-to-speech voices for entertainment, mobile, telephone systems and assistive use. The firm is known for realistic voices that express personality. "Most of our big competition voices strive for perfect vanilla voices. They are boring and that's not how real people are. So as a result, they don't sound human at all," explains Patrick Dexter, Business Development Director at Cepstral.
Cepstral LLC is a leading TTS (Text-to-Speech) technology company based in Pittsburgh, Pennsylvania, USA providing speech technologies for the spoken delivery of information for telephony, mobile media, edutainment and assistive applications. We build high quality, natural sounding voices with personality for mobile, desktop, and server applications. VoiceForge is a patented hosted service delivering online TTS.
http://www.Cepstral.com
http://www.VoiceForge.com
We Build Voices®.
We Make the Internet Talk®