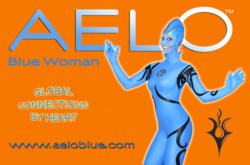 AELO brings poetry into everyday life!
Zurich, Switzerland (PRWEB) September 05, 2012
With her futuristic and beautiful protagonist, AELO, the Swiss multimedia artist Lisa Maito will be heading from Switzerland to NYC in September. Her poetic and interactive production conveys the message that "we are all one," regardless of race, color or religion. The fact that AELO, the protagonist, looks so strange enables her to represent topics in the global world that are gaining importance. Some examples of these subjects are tolerance and integration, foreignness and communication, and the ability to experience deep relaxation.
The AELO Blue Woman production is socially and globally oriented, and has high entertainment value. The producer and artist, Lisa Maito, performs as AELO on a cultural stage. In the United States, she would like to continue with her performance art that she has developed and shared in Europe.
Lisa plans to take the AELO production on the road with a USA tour starting in March, 2013 in California. This will be in conjunction with the launch of the social AELO Global Network. In order to accomplish these goals, Lisa has started a crowdfunding campaign that will allow people worldwide to participate in her production. She provides unique perks to those who contribute, like being a guest in the September Music Video shoot, going back stage with AELO, or even to have AELO at a private party. The ability to be a part of this once in a lifetime production can be done by going to Indiegogo.com and contributing to the project.
AELO's music, "Connections by Heart," will be available to download in stores at the end of September. Lisa will be producing her first music video for her song "Dance to Come Together." The unique, ambient pop music will be a welcome addition to any music lovers collection, and is the perfect way to take part of the AELO Blue Woman performance at home.
For all inquiries, please contact Energizer Productions, Lisa Maito, at energizerprod(at)hotmail(dot)com.