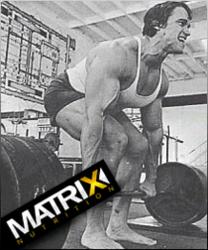 Make the dream a reality with Matrix Nutrition
(PRWEB UK) 14 September 2012
Matrix Protein Shakes and slimming pills online are now allowing everyone to acheive the perfect body with ease.
The media contains many called "studies" which state that looking good provides an advantage in life which encourages the assumption that those who perhaps don't look as attractive, as athletic or as "socially acceptable" as their peers may not achieve as much and potential have a less happy lifestyle.
One such study conducted by the Social Issues Research Centre states that "attractive" people are less likely to be convicted if involved in a court case, and if they are convicted they would be likely to receive a more lenient sentence.
How true these findings actually are does not alter the fact that the pressure to look good is ever present in modern society. This may be due to marketing, social or cultural reasons or purely due to a lack of personal confidence.
Matrix Nutrition, which has been featured in Men's Health, The Beef, and Men's Fitness magazine, is an ethical company that provides nutritional supplements to empower their customer in attaining the body shape and feel that they desire, not one which society dictates. The supplement industry has enjoyed an era of growth over the past few years which has almost certainly been due to the pressure that people feel to conform and look a certain way.
Matrix Nutrition refuses to take advantage of this trend in terms of promising artificial and unrealistic results, instead choosing to opt for offering top quality Matrix Protein Shakes and a wide variety of other products at competitive prices. All of the ingredients that go into Matrix products are carefully sourced in order to ensure the highest quality of supplements at the most competitive price.
In the past, nutrition supplements were used mainly by professional sportspeople and weight lifters. In more recent times the sector has opened up to include a wide range of people with numerous goals in mind. Whilst professional athletes still enjoy the benefits of Gain Weight supplements and other sport-specific supplements, there has been a big interest from those taking part in mixed martial arts.
Sport is no longer purely competitive and is now seen as a way to build health, fitness, skills and confidence. The skills that are required of someone practicing martial arts are countless, and the energy expended during these sessions is considerable. Many practicing martial artists use nutritional supplements in order to maximise the effect of their training and to enable them to enjoy their sport knowing that their health needs are being taken care of.
Whether an individual is looking for slimming pills online or energy and muscle recovery products, they can be sure that Matrix Nutrition have embraced the growing popularity of using supplements and has produced a quality range of safe products for use. Matrix Nutrition is all about helping to achieve goals that athletes set for themselves, not ones that are set by misleading marketing campaigns and social pressure. This is what sets Matrix Nutrition aside from other supplement businesses.
For more information please visit http://www.matrix-nutrition.co.uk or call 01253 729732.