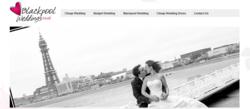 (PRWEB UK) 7 September 2012
How to get a budget wedding is not what every bride and groom want to think of however, when walking down the aisle or waiting with excited nervousness at the altar, neither a bride or a groom should be worrying about how they are going to pay off the huge wedding loan, whether their overdraft will cover everything next month or if they should be preparing to spend the few years of their marriage struggling to make ends meet. Money worries don't usually come under the heading of "romantic".
Getting married on a budget does not mean that the special day will be anything other than spectacular. Blackpool Weddings are committed to realising a couple's dream day without the nightmare of debt on the horizon. Anyone can get a budget wedding with the proper help, advice and support.
Whether a dream wedding comes with white lace or a singing Elvis, Blackpool Weddings can arrange the perfect occasion. Couples who love the idea of an alternative ceremony that guests will talk about for years to come can participate in a Las Vegas-style "big day" at the purpose-built chapel on the Tower Festival headland complex. If your dream wedding involves glitz and glamour, this could be the way forward for you, and Blackpool Weddings can help you find everything you need from a themed cake to the flowers within your budget.
Budget weddings in Blackpool benefit from fabulous sea views and sumptuous venues. Additionally Blackpool Weddings have a great number of friendly and dedicated local retailers and service providers whose primary aim is to ensure that both bride and groom enjoy their magical day regardless of the size of their budget on their books. It is no wonder that Blackpool has earned the unofficial yet highly cherished title of the West Coast Wedding Capital amongst the many couples that have celebrated their marriage there.
A cheap wedding UK style does not mean tacky favours or poor quality outfits, quite the opposite. Whether a couple decides to tie the knot in the luxury of the Hilton or in a civil ceremony at the Town Hall, the happy day can be designed to be both within budget and perfectly arranged, down to the very last detail.
With the economy being what it is, many couples panic about the cost of their big day and this can lead to unfortunate choices. With the support of Blackpool Weddings, a couple can utilise local contacts, online resources and more to plan a spectacular day whether they have a large amount to spend or are working on a more humble budget.
Getting married is the beginning of a hope and love-filled journey for any couple and Blackpool Weddings are committed to sending their customers on their way in style, and with the memory of a budget wedding that surpassed all expectations.
For more information please visit http://www.blackpool-weddings.co.uk or call 07810873677.
Blackpool weddings provide budget solutions for brides and grooms. They also cater for individual tastes and go the extra mile to ensure that the wedding day is memorable.