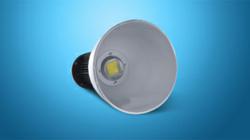 (PRWEB) September 10, 2012
With the increasing demands of customers for cutting the energy consumption and cost and enhancing its quality and style, Zhongtian Lighting recently announced its new product [ZT-HB-1-100W-LED Bay Light] accordingly. This model can bring lots of benefits to customers.
This LED bay light is an alternative to older and less-efficient light sources. The advanced heat dissipation technology helps not only get rid of excess heat effectively, but also reduce overall weight. Its overall size is D240*H240mm and its weight is 5.8kg. It is widely used in shopping malls, factories, supermarkets, bus and train stations, tunnels, warehouses, and other public places. The100W LED bay light provides color temperature of 3000K-3500K, 4000K-4500K, 5500K-6500K illumination with a Color Rendering Index of 80. This model accepts a wide range of power, ranging from 85 volts to 264 volts AC and 30 volts to 36 volts DC and can be operated normally at the condition with temperature from -40℃to 55℃, which enables it to adapt to different harsh conditions. In addition, the high quality chip and its lumens make its power factor reach up to 0.95.
The mission of Zhongtian Lighting is to provide the best products for customers at a reasonable price. The LED bay light's long lifespan and high efficiency help people saving lots of maintenance cost. It delivers 8595lm-9356lm with the different color temperature. Besides, it can ensure the health of people and environment to some extent, because it doesn't contain hazardous chemical elements, such as mercury and lead. Meanwhile, its waste can be recycled.
Zhongtian Lighting is dedicated to developing new products, willing to offer the excellent, functional, and eco-friendly LED lights to users. It manufactures all kinds of LED lamps for industrial, commercial and public indoor lighting applications. All products of Zhongtian Lighting are granted a 3-year warranty. The company is very confident to produce many more practical and popular LED bay light series for the customers all over the world.
For more information, please visit http://www.ztlights.com/Led-bay-light.html.