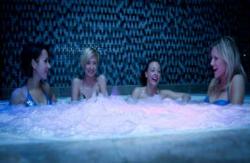 This is a lovely prize – a spa day in a really top class hotel complete with treatments that will make you forget about the impending winter and make you feel special.
Coventry, UK (PRWEB UK) 5 September 2012
SpaSeekers has teamed up with Forest Pines Hotel & Golf Resort, which was recently awarded a prestigious VenueVerdict Gold award, to offer a free spa day to one lucky entrant.
Forest Pines, set in a delightful countryside location, surrounded by heathland, and framed by the beautiful pine trees that inspired its name, has the distinction of being the only hotel in Lincolnshire to receive recognition in the 2012 awards, and is offering the winner of this month's competition full use of all the spa facilities on a 'Q to Escape' day.
The lucky winner can choose from a menu of indulgent spa treatments, and enjoy full use of the spa's gym, pools and relaxation areas as well as a delicious lunch in the hotel restaurant. The grounds are all there to be enjoyed, as are the sauna, ice fountain and aroma steam room.
In order to win the prize, entrants simply need to 'like' the competition post on the SpaSeekers Facebook page, add their own comment and keep their fingers crossed!
The Your Q to Escape day includes:
Full use of the leisure facilities (including swimming pool, sauna, steam room, Jacuzzi and gym), lunch and a choice of two of the following treatments:

Back Massage
Mini Facial
Scalp Massage
File & Polish Hands
File & Polish Toes
Foot Ritual
SpaSeekers Director, Jason Goldberg, comments;
"This is a lovely prize – a spa day in a really top class hotel complete with treatments that will make you forget about the impending winter and make you feel special. Forest Pines thoroughly deserve their award this year, and we hope our lucky winner will enjoy their day, too."
For more information on UK spas, visit: http://www.spaseekers.com
For media enquiries please contact:
Jason Goldberg – SpaSeekers Director Email address
Telephone number: 0845 555 8 555
Notes to Editors.
SpaSeekers.com boasts an unrivalled nationwide coverage of spas with over 350 across the UK. Spa Seekers customers receive the benefit of spa deals, many offered exclusively. SpaSeekers works with well-known spa brands, for example Champneys, QHotels, Marriott, De Vere, Saks Hair & Beauty, and Ragdale Hall.
Spa days are available in open dated gift voucher format, valid for six months from the date of purchase or post-dated on request. Personalised and gift wrapped vouchers are also available.
http://www.spaseekers.com
Terms & Conditions
Eligibility
1. The Facebook prize draw competition (the "Competition") is open to residents of the UK aged 18 and over. Proof of identity and age may be required.
2. SpaSeekers Ltd (the "Promoter") is the promoter of this competition and can be contacted via email at enquiry@spaseekers.com
3. The host of the competition is http://www.facebook.com/spaseekers and is known as the "Competition host" for the purposes of these terms and conditions.
4. The Competition is not open to employees or agencies of the Promoter, their group companies or family members or anyone else connected directly to the Competition host or to the Promoter.
5. Using a false name or address will result in disqualification.
Entry
6. Entry to the competition is obtained by liking and sharing on our facebook page.
7. A person may enter the competition more than once. Entries on behalf of another person will not be accepted and joint submissions are not allowed. You are responsible for the cost (if any) of sending your Competition entry to us.
8. No responsibility is taken for entries that are lost, delayed, misdirected or incomplete or cannot be delivered or entered for any technical or other reason. Proof of delivery of the entry is not proof of receipt.
9. No purchase necessary.
10. Entries made online using methods generated by a script or macro or the use of automated devices will not be counted.
The Prize
11. The Prize of the competition is a Your Q to Escape Spa Day which includes: Full use of the leisure facilities (including swimming pool, steam room, Jacuzzi and gym). Lunch and a choice of 2 of the following treatments: back massage, mini facial, scalp massage, file & polish hands, file & polish toes or a foot ritual.The prize is not transferable to another individual and no cash or other alternatives will be offered. Cannot be used with conjunction with any other offer. Subject to availability - excluding Bank Holidays and weekends.
12. One winner will receive the prize.
13. The prize is non-exchangeable, non-transferable, and is not redeemable for cash or other prizes.
14. The Promoter retains the right to substitute the prize with another prize of similar value in the event the original prize offered is not available.
15. The prize must be taken within 6 months of winning the prize.
Timing
17. The Competition opens on September 3rd 2012.
18. The Competition closes at 5pm 30th September 2012. Entries received after that date and time will not be considered.
The winner
19. The winner will be selected at random from the "shares" relating to this promotion.
20. The judges of the competition are Mandy Townsend & Jason Goldberg from SpaSeekers.com
21. The winner will be selected no later than 3rd October 2012.
22. The winner will be notified by email and Facebook and given details of how to claim their prize. If a winner does not respond to the Promoter within 7 days of being notified by the Promoter, then the winner's prize will be forfeited and the Promoter shall be entitled to select another winner (and that winner will have to respond to the Promoter within 7 days or else they will also forfeit their prize). If a winner rejects their prize, then the winner's prize will be forfeited and the Promoter shall be entitled to select another winner.
23. Details of the winner can be obtained by sending a stamped addressed envelope to the following address: SpaSeekers Ltd, Jastan House, 40 Moor St, Coventry, CV5 6EQ.
24. The winner may be required for promotional activity and by entering the competition accepts that their name and address may be published or provided if requested as per the terms and conditions contained within.
Data protection & privacy
25. Any personal data relating to entrants will not be disclosed to a third party without the individual's consent (other than the winning entry). Data relating to entrants will be retained by the Promoter and Competition host for a reasonable period after the Competition closes to assist in operating competitions in a consistent manner and to deal with any queries on the Competition.
26. Information provided to enter the competition may be used, shared or published or used for publicity in a digital format and includes your name, your location and/or profile picture.
27. If an Entrant does not wish for their personal information to be used for marketing purposes, a request to remove consent for personal information to be used for marketing purposes should be submitted in writing to the Competition host.
Liability
28. Nothing in these terms and conditions shall exclude the liability of the Promoter or the Competition host for death, personal injury, fraud or fraudulent misrepresentation as a result of its negligence.
29. The Promoter and Competition host accepts no responsibility for any damage, loss, liabilities, injury or disappointment incurred or suffered by you as a result of entering the Competition or accepting the prize. The Promoter further disclaims liability for any injury or damage to your or any other person's computer relating to or resulting from participation in or downloading any materials in connection with the Competition.
30. The Promoter reserves the right at any time and from time to time to modify or discontinue, temporarily or permanently, this Competition with or without prior notice due to reasons outside its control (including, without limitation, in the case of anticipated, suspected or actual fraud). The decision of the Promoter in all matters under its control is final and binding and no correspondence will be entered into.
31. The Promoter shall not be liable for any failure to comply with its obligations where the failure is caused by something outside its reasonable control. Such circumstances shall include, but not be limited to, weather conditions, fire, flood, hurricane, strike, industrial dispute, war, hostilities, political unrest, riots, civil commotion, inevitable accidents, supervening legislation or any other circumstances amounting to force majeure.
32. The Competition will be governed by English law.