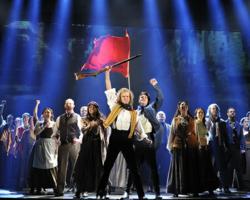 A five star hit, astonishingly poweful and as good as the original!
Worcester, MA (PRWEB) September 21, 2012
Cameron Mackintosh's new 25th anniversary production of LES MISÉRABLES, generously sponsored by The Guild of St. Agnes, will debut at The Hanover Theatre for the Performing Arts in Worcester, April 2-7, 2013. Tickets are on sale now to the all-new production which performs Tuesday-Thursday, April 2-4 at 7:30pm; Friday, April 5 at 8pm; Saturday, April 6 at 2pm and 8pm; and Sunday, April 7 at 1pm and 6:30pm.
The New York Times calls this LES MISÉRABLES "an unquestionably spectacular production from start to finish." The London Times hails the new show "a five star hit, astonishingly powerful and as good as the original." The Star-Ledger says "a dynamically re-imagined hit. This Les Misérables has improved with age" and NY1-TV proclaims "this new production actually exceeds the original. The storytelling is clearer, the perspective grittier and the motivations more honest. Musical theatre fans can rejoice: Les Miz is born again."
For more information on the production, engagement dates, and locations please visit LesMis.com. For a video sneak peek of the New 25th Anniversary Production of LES MISÉRABLES, please visit LesMis.com/watch.
Ticket prices are $50, $60, $70 and $80* with a 10% discount available for members of The Hanover Theatre, groups of 15 or more** and WOO Card holders. A 15% discount is available for groups of 50 or more**. Tickets are available online at TheHanoverTheatre.org, by phone at 877.571.SHOW (7469) or at The Hanover Theatre Box Office located at 2 Southbridge Street in downtown Worcester.
Tickets for LES MISÉRABLES are also available as part of a five show Broadway Series Subscription Package, including WEST SIDE STORY, AMERICAN IDIOT, EXPERIENCE THE BEATLES WITH RAIN and THE ADDAMS FAMILY. Subscribe now to receive a Basic Membership, a complimentary parking pass and a variety of benefits from cultural partners, restaurants and other businesses throughout Worcester County. Plus, subscribers save an additional 15% on new Broadway tours and more, including CHICAGO, DISNEY'S BEAUTY AND THE BEAST, SANDY HACKETT'S RAT PACK SHOW, LORD OF THE DANCE and STOMP.
About The Hanover Theatre
The Hanover Theatre for the Performing Arts, located in downtown Worcester, New England's second largest city, is recognized by Pollstar as one of the Top 50 Theatres in the World. After undergoing many name changes and renovations over the decades since its 1926 birth, The Hanover Theatre reopened in March 2008 following a $32 million historic restoration. Since then, the theatre has established its place as a rich entertainment and cultural venue, winning numerous awards, including The National Trust for Historic Preservation Award in 2010. Now in its fifth season, The Hanover Theatre continues to expose over 170,000 annual patrons to world-class entertainment in the form of Broadway, concerts, comedians and much more. For more information, visit TheHanoverTheatre.org. Worcester Center for the Performing Arts, a registered not-for-profit 501(c)(3) organization, owns and operates The Hanover Theatre for the Performing Arts. All donations are tax deductible to the fullest extent allowed by law.
About The Guild of St. Agnes
The Guild of St. Agnes was established nearly 100 years ago in 1913. A group of dedicated Worcester citizens came together to create an agency that over the years has helped thousands of local families. The Guild is a nonprofit agency which provides quality care and education for children ages four weeks to 12 years in a secure and nurturing environment. A dedicated and well educated staff of teachers offer an individual approach to the 1,300 children served on a daily basis. As part of our Centennial celebration The Guild of St. Agnes is pleased to support the Hanover Theatre for the Performing Arts, one of the area's newest nonprofits and one that has made a major impact in Worcester's already superb cultural environment. A venue dedicated to making "The New Worcester" a reality. Here is to the next 100 years!
*Prices are subject to change
**Excludes Fri & Sat evening performances