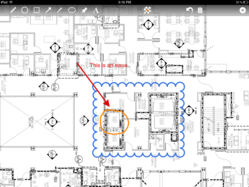 "We can't wait for LATISTA users to experience the incredible new inspection feature, faster rendering of PDFs and more functionality with synchronization." - Chris Ramsey, COO and EVP at LATISTA
Reston, VA (PRWEB) September 05, 2012
LATISTA Technologies, the leader in quality and field management solutions for construction announces the release of LATISTA for iPad app version 1.5. The new and improved version has added an inspection feature, extended PDF viewer and markup capabilities, and improved synchronization. The new version can be downloaded from iTunes.
The inspection feature is a new, easy-to-use addition to the iPad app, it comes with more flexible and unique answers to questions within an inspection. Users can utilize multiple answer formats such as checkboxes, dropdowns and radio buttons for more definite responses. Users can make completing inspection an easier task by designing inspection templates using a mixture of question formats. This will allow you to record more precise observations. Inspection creation and management has been added to the QA/QC and Safety modules. Please contact LATISTA support for more information about updating any existing inspection templates for use on the iPad.
The performance of the PDF viewer has been significantly improved. Complex architectural drawings and floor plans in PDF format can now be generated and rendered much faster and with better clarity on the iPad. New markup capabilities, which support various shapes, arrows, text annotation and multiple color options, allow you to easily identify issues and observations directly on a floor plan or photo.
Users can now synchronize large files in the background while interacting with the software in the foreground. Synchronization has a new filter capability, select which specific files to sync with specific devices. Users working with a certain module can now save time by only synchronizing files for the module they are working with instead of synchronizing all project files. Other new features of LATISTA for iPad v1.5 include the ability to terminate synchronization once it has began and an error-reporting prompt sent to LATISTA when application unexpectedly closes.
Additionally, there has been remarkable enhancement made to the Commissioning module on LATISTA web. In order to generate a visual Commissioning progress report, users have the new ability of color-coding floor plans to indicate the status of different commissioning steps. The user also has the ability to interactively filter which items are shown on the Commissioning Summary. Users can easily identify items that have progressed to a certain point in the Commissioning process and that are ready for the next Commissioning activity. These filters can be saved as favorites and the results can be easily exported to Excel. For more enhancements to LATISTA web please see "What's New" under help.
"LATISTA for iPad continues the rapid pace of innovation by improving and adding new features to the app. We made the enhancements with all of our customers and users in mind, we want to continue delivering the best end-user experience in the field," said Chris Ramsey, COO and EVP at LATISTA. "We can't wait for LATISTA users to experience the incredible new inspection feature, faster rendering of PDFs and more functionality with synchronization."
About LATISTA Technologies
Unparalleled in the industry, LATISTA's (http://www.latista.com) enterprise web and Apple iPad or mobile tablet PC software delivers quality and field management solutions for construction. LATISTA's current customers already include Fortune 100 capital project owners and top 10 general construction and engineering firms. LATISTA's customers attest that their use of LATISTA has led them to higher quality production, lower costs and reduced legal and financial risks.