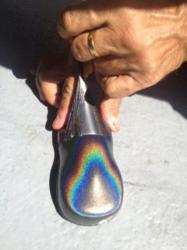 The Velcro of Paints
Los Angeles, CA (PRWEB) September 05, 2012
The Alsa Corporation announces an innovative new cling car wrap made free of adhesives that will be available come October 2012. This new car wrap requires no heat and because of its putty-like texture the wrap can be extended to great lengths. This ground-breaking car wrap can stick to nonporous surfaces, easily removes dust, and carpet lint.
This wrap is the first of its kind that does not stick to dust, fabrics, or carpets. The application process is quick and simple and will only stick where intended when applied with light pressure.
The wrap clings and stretches better than any adhesive. It easily tackles the hardest and pointiest of curves without breaking or wrinkling. The ease of application or wrapping makes it incredibly fast to wrap a car, according to an Alsa company rep. It easily conforms to the most unique grooves and points of a car.
Known as the "Velcro of paint", the company says that it's as tough as exterior latex paint, and works best on shiny or nonporous surfaces.
Other innovative features include extreme elongation up to 300%, conforms in unique weather conditions, and has little pull back. Cling Wraps come in 60" wide rolls by 100 feet long and in endless colors and effects. Alsa Cling Wrap films are made with 100% water base safe ingredients made in the USA.
Alsa Corporation is proud to announce their plan to apply the cling wrap to various industries including automotive, vinyl car markets, IT hardware, including phones and laptops, and many more.
Alsa makes conventional PVC wrap as well and has been long known for specializing in Chrome and other special effects. The company also makes conventional and exotic paints in Los Angeles which can be viewed at alsacorp.com and alsa-refinish.com, and coming soon a new website for clingwraps.com.
Alsa Corporation is saying goodbye to PVC and glue and welcomes paint film that sticks on its own. Free samples are available to customers interested in learning more about the innovative new cling wrap upon request.
For more information please contact Alsa Corporation at: info(at)alsacorp(dot)com