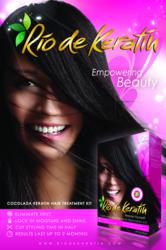 New York, NY (PRWEB) September 12, 2012
Want great looking hair all year round? Enter the Rio de Keratin® back to school contest by simply clicking the "Like" button on the Rio de Keratin Facebook Page. All Rio de Keratin Fans will be entered to win one of three great prizes:
Grand Prize: Rio de Keratin Party
Rio de Keratin will host a fun party filled with food, drinks, and of course their Release Yourself Keratin Kits!
1st Place: Get a Release Yourself Makeover
The Rio de Keratin Beauty Squad will do simple and easy beauty makeovers for you and your friends.
2nd Place: Great Hair All Year Around for You and Your Friends
Rio de Keratin will supply you and three of your friends with Release Yourself Keratin Kits!
To enter: Simply "Like" the Rio de Keratin Facebook fan page. All Rio de Keratin Fans, new and old, will be entered for a chance to win! Deadline for "Like" submissions is September 20, 2012!
About Rio de Keratin
Rio de Keratin® brand comes from the company, LASIO®, Inc., that is committed to excellence and creating innovative, high quality hair care products and services. Rio de Keratin® Release Yourself Keratin Kit creates smooth, shiny, frizz free, manageable hair. The Rio de Keratin® brand provides internships, scholarships, and resources in communities that promote achievement and success for females 16-24 years of age. For more information on Rio de Keratin®, visit http://www.riodekeratin.com and Facebook via facebook.com/Riodekeratin and Twitter via twitter.com/Rdkhair.