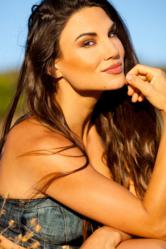 It's about time Hollywood has a good role model. -- Babette Perry, IMG
Santa Monica, CA (PRWEB) September 04, 2012
September 4th, 2012
An athlete among athletes, Lauren Abraham, is a former pro snowboarder, is currently an endorsed fitness model & athlete for bodybuilding.com, and sponsored stand up paddle boarder.
The Ultimate Athlete focuses on main stream ball sports, like baseball, basketball and football, with the winner taking $5,000 in the end. Lauren proves to be the perfect host for the 2 day event, as she has been seen on the microphone on the major sport networks with her own show series, such as FSN, ESPN, VERSUS, and Spike to name a few. She has sat ring side MMA events as a commentator, and this Ultimate Athlete event will definitely have some MMA flair.
Keep an eye out for Lauren Abraham at The Olympia in Las Vegas Sept 27-30, as she hosts the first ever Mens Fitness Ultimate Athlete at the Las Vegas Convention Center Sept 28th & 29th.
ABOUT LAUREN ABRAHAM: She is a nationally recognized TV Host and action sportscaster for networks like FSN and Versus. She was recently the reporter for the 2012 Monster Energy Supercross tour.
She is a former pro snowboarder, sponsored Stand Up Paddle Boarder and certified Yogi. In 2009 Lauren was the national brand ambassador for Reebok and Cirque De Soleil's launch of Jukari and oversaw operations at the celebrity studio in Hollywood California. Today Lauren is on the elite team of Bodybuilding.com and can be seen touring various fitness expos worldwide with them and continues to be published on their website as a expert health & wellness contributor. Lauren also own her own dance company LA Entertainment specializing in the performing arts of cirque and dance.
For more on Lauren Abraham:
http://www.laurenabraham.com
Visit her facebook fan page
Follow her on twitter @laurenabraham