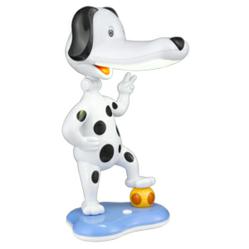 (PRWEB UK) 2 September 2012
FurnitureInFashion proudly launches its colorful and fun range of novelty table lamps for children. FurnitureInFashion already supplies an extensive range of furniture for children with cute designs and fun colors. the addition of novelty table lamps has added much depth and versatility in the furniture range for children at FurnitureInFashion. The designers at FurnitureInFashion have kept the preferences of children and their fascinations to design these novelty table lamps in order to match their moods. The owner and Managing Director of FurnitureInFashion Asad Shamim on the launch of novelty table lamps for children said,
"FurnitureInFashion is extremely pleased to offer a complete range of children furniture with colorful designs, patterns and fascinating characters. A bedside table lamp is always the most attractive item in a room of a kid as the table lamp keeps the room perfectly lighted for a kid to move around. Our novelty tables lamps present the emotions and imagination of children in the most real and fascinating way. We are confident that our novelty table lamps range will be very successful."
FurnitureInFashion is offering the most fascinating designs and bold funky colors in the novelty table lamps collection for children. A very cute and adorable novelty table lamp Pink cat holding is available at FurnitureInFashion. It is a lamp for kiddies with a pink cat holding a fish. It is an ideal addition to a young girl's bedroom with pink color and adorable cat. Mr. Shamim said, "It is a fluorescent lamp which can be placed beside the bed or in a corner for adding inspiring light in a room. Kids will love this lamp because of its adorable character and arrangement."
The novelty table lamps collection for children is offering another adorable lamp in yellow and white color. It has an adorable bunny sitting under the tree with yellow and white color combination. It can be a great addition to any room with any kids theme at all. The color is neutral and can make any room look bright and fresh. For the dog lovers, FurnitureInFashion is offering a white dog table lamp which can also be used in a closed arrangement as a night light. Mr. Asad said, "We have tried to blend the imagination of children with our quality designs and produced some of the most loved characters by kids. We have tried to design characters in the most pleasant way to keep children comfortable in their beds."
Another very interesting offering in the catalogue of novelty lamps for kids is blue airplane table lamp. It is a beautiful and adorable lamp which has a plane at the base with a pilot waving. The plane has a top made of blue cloud with sun peeping through the cloud. It is a very interesting table lamp which not only provides light but also helps kids play with their imagination. Mr. Asad said, "Our novelty table lamp collection for kids is offering the best of a child's fascination. Our team of designers has studied the behavior of kids very closely to come up with designs for table lamps. We have priced these table lamps very reasonably in order to provide every kid with the most inspiring and funky designs."
FurnitureInFashion is offering a complete range of furniture for children including beds, side table, wardrobes, dressing, chair, desk, drawers, stools, book shelves and much more.
About FurnitureInFashion
FurnitureInFashion is a UK based online retail business. It supplies furniture items from its German based warehouse and has a showroom in Bolton, UK. The company provides everything from umbrella stand wall art and room dividers to bedroom, bar stools and computer tables. FurnitureInFashion offers excellent free delivery within UK and has a fantastic customer service as well. For further information and details about the sale, visit http://www.furnitureinfashion.net