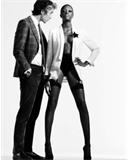 We're really excited to welcome Alisha White to our team
London, UK (PRWEB UK) 10 September 2012
http://www.lamodeacademy.com is the brand new website and home to the new model training academy in the very heart of modelling London. Home to the already hugely successful model advice company, La Mode London, the school has been eagerly awaited amongst the modelling fraternity. The doors have just been officially opened and models have flocked in to book their place in modelling history and perfect their craft. Helen Smith, director for La Mode London, said,
"I've wanted to launch a Model Academy for a long time I have to admit. My wonderful team of photographers, beauty stylists and make up experts all pride themselves on their honest and open advice for any model, no matter how experienced they are. Our dedicated open and photo shoot days are based around not only bringing out the best of each model's assets, but also letting them see inside the modelling industry and getting a true taste of how things work in this very competitive industry"
She goes on to say, "there's only a certain amount of knowledge which can be imparted during the day, in between the actual photo shoot itself. We've wanted to be able to extend the time available, to pass on our knowledge further and teach models what it takes, to help them each learn how to be a successful model."
Helen goes on to explain that there are various packages at the new Academy of Modelling, including an intense two-day course which lasts 16 hours. It covers every single aspect of modelling. Unlike any other modelling academy, La Mode Academy of Modelling is unique in that it exposes models to the reality of life within the industry and also teaches how to create a career with longevity. It provides an unforgettable experience, which is not only informative put is a lot of fun as well she says.
"Any model who arrives at the Academy will gain experience with credited and creative professionals within the industry. We already have a brilliant team here, and we're really excited to welcome Alisha White to our team. She was amongst the five British models to feature in America's Next Top Model with Tyra Banks." She goes onto say, "Not only that, but she came second in Britain's Next Top Model, so her experience is absolutely invaluable."
Each model will have a truly memorable experience Helen explains, but they will also have an official certificate from the La Mode Academy to show potential employers that they have had training. A model on the course will get to learn the ins and outs of the industry but also they come away equipped and ready to tackle any modelling job should they be offered it. Included in the workshop is a professional photo shoot complimentary for all students and La Mode promise to organise regular fashion shows and events to give students the possibility to demonstrate all they have learned during the workshop.
"The school is open to models from anywhere in the country, not just for models working in London," Helen explains." Not only that but our workshops are at the disposal of existing and aspiring international models as well. Our team is happy to arrange short-term accommodation and travel arrangements and any other special needs which may be required during the workshop. It is our aim to make it a priority to ensure a model's stay in London will be as comfortable as possible."
The new modelling academy is now open and models attending the two-day course can expect to learn about health and fitness and being able to meet nutritionists and fitness instructors first hand, to learn about applying makeup professionally, as well as grooming and how to maintain healthy looking skin. Advice is also given on individual self styling, the preparation and presentation needed for impressing at casting calls, interviews and Go Sees.
"The most important part of a model's attitude and attributes is about learning to act, training to walk down the catwalk and also gaining knowledge about the fashion industry in general," Helen says.
"Knowledge is the most powerful weapon" and "you never get a second chance to make a first impression" are just two key phrases which La Mode Modelling Academy promotes.
Visit the brand-new website and book a place in the modelling school to learn all a model needs to know to get started in their training at http://www.lamodeacademy.com.