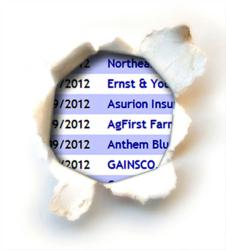 most businesses are less interested in faceless statistics than they are in real company names.
London,UK (PRWEB) September 27, 2012
CoTracer.com has aimed it's new service directly at enterprises who sell B2B by naming the companies who visit their web site. CoTracer's marketing literature claims that this translates directly into sales leads for the discerning marketer who wants to capture new business at the moment they are showing interest.
Until now, the service has been kept exclusive to a select group of clients and by invitation only. But this week, CoTracer has opened the service to the wider business community.
CoTracer isn't for everyone. According to Alan Wheal, investor and fifty percent owner of the company, "This will work if you sell to businesses and if you can keep up with the leads as they arrive. We invested in CoTracer when we saw what it could deliver to our engineering group. When someone is looking at our products or services, that's a buying signal and with CoTracer we can act quickly to capture new business. It saves us time and money on prospecting"
Since discovering the technology following a private invitation during the spring, the large engineering and technology specialists EA Group snapped up this new venture, injecting capital and helping to underpin the technology. CoTracer is now the sixth member of the mainstream EA Group portfolio and succeeded in winning its first stage funding during the summer.
While CoTracer.com bills itself as the perfect low-cost sales lead generator, it has faced questions about privacy, especially in this post-cookies era. Jansen van Dok, head of marketing is quite open about the cookies issue. "Our Tracer service does not use cookies - simple as that. Our technology works very differently and is backed up by manual matching techniques, ensuring our data is highly accurate and compliant."
The painful lesson from traditional website analytics is that the results are normally just anonymous statistics, having little to offer sales teams who want leads. CoTracer have gone after this market specifically, "When it comes to website analytics, most businesses are less interested in faceless statistics than they are in real company names," says CEO, Steve Aspris. "CoTracer not only supplies our clients with a hot prospects list, but goes one step further by detailing which pages – and therefore which products or services – are of specific interest to each individual organisation."
The company now offers a free trial and has developed a bespoke consultancy for larger organisations with complex lines of business, to help them use this data more effectively.
Company Information
CoTracer.com reports actual company names from website visitor traffic with no need for sign-up forms or cookies. The CoTracer service is aimed at business to business enterprises as a direct web lead generation sales tool. CoTracer is part of the EA group of companies.