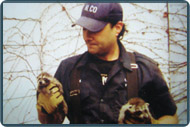 "Flying squirrels are not like regular squirrels and they do not literally fly either." - Alan Constantino
New Jersey (PRWEB) September 04, 2012
Squirrel invasion is a growing problem. According to ABC News, a flying squirrel caused a big ruckus when it flew into a New Jersey hospital and got trapped in the emergency unit. The Robert Wood Johnson University Hospital in Rahway had this unwelcome visitor frantically fluttering around the halls of the hospital. The hospital crew called the fire department and when the firefighters arrived, the squirrel tried to play a game of Catch Me If You Can, escaping the firefighters' clutches and making their attempt at squirrel removal increasingly difficult.
With every year, the global population increases significantly. The greater the population, the less space for animals to roam free, the greater likelihood that creatures, flying squirrels for example, need to look for alternative means of shelter in order to seek refuge from predators and harsh weather conditions. As Alan theorizes, squirrels are living in closer contact with humans than ever before, and this increases their tolerance and reduces their fear. These conditions make squirrel control all the more challenging.
Alan has some useful information regarding these flying squirrels. The name is in fact misleading. "Flying squirrels are not like regular squirrels that you always see normally and they do not literally fly either", he says. The flying squirrel, smaller than his more ubiquitous cousin, has a membrane called a "patagium", that extends from the mammal's front wrist to his ankle. When it extends its legs, the membrane opens up and forms a gliding surface like a kite that allows the squirrel to fly through the air.
There are many problems associated with both flying squirrels and gray squirrels entering public places. Alan warns that these pests can "chew ornamental and potted plants, damage screens, they may gnaw on wood, electrical wiring and insulation causing fires." He explains that the main reason both types of squirrels enter homes, offices, and in the case above, hospitals, is because they are looking for a place to hide out, and they enjoy seeking out insulation to do just that. Nonetheless, it is still important to employ the services of an experienced wildlife control company if you happen to encounter one in your house.
If someone does find a flying squirrel in your home, Alan recommends taking the following steps for squirrel removal: inspect the house to determine if there are indeed flying squirrels inside and not another animal. Next, set traps. While waiting for the traps to catch the mammal, inspect the house to determine where they came in. Afterwards, seal up the holes to avoid repeat visits. Last, clean up the area where the squirrel was staying, making sure to get rid of its urine and droppings to avoid health hazards.
Alan warns that squirrel removal can be rather hard, given their small size and ability to escape. If the task seems too overwhelming, calling a professional is always a viable option.
By: Reina Berger