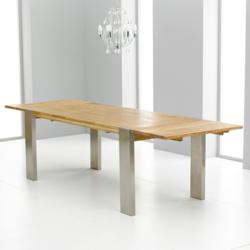 FurnitureInFashion Announces to bring families together with launch of their New Dining Table Set "Louis"
(PRWEB UK) 27 September 2012
FurnitureInFashion has announced to bring families together and provide them with luxury dining experience with launch of their new dining table set Louis. The company already has very extensive and unique dining room furniture with absolutely fantastic dining table sets comprising of 4, 6 and 8 chairs usually made of leather with retro style. The Louis range of dining table set is another great addition to the dining room furniture range made of 100% oak. Mr. Asad, the owner and Managing Director of FurnitureInFashion on the launch of Louis range said, "FurnitureInFashion is adamant to become the leading supplier of oak furniture especially for dining room. The Louis dining table is a perfect addition to oak range and provides a long lasting dining solution to any home. This range will allow our customers to blend their modern or traditional existing décor with oak. We already see this range a success in coming days due to its exclusive designs and ample space."
The vogue Louis range of dining table set is inspired by modern Italian designer concepts. The oak used is 100% without any mixture and is finger jointed with a smooth oiled finish. The Louis dining tables range come complete with extensions making it extremely practical choice. The Louis range particularly offers extended tables to add more practicality. Mr. Shamim said, "We are sure that this range is sure to make a statement with impressive pieces which suit all kinds of modern day lifestyles."
The modern extending dining table of Louis range is made from solid oak and brushed metal with 4 brushed stainless steel legs and solid oak top. There are two extension leaves included in every dining set model with each leaf of 45cm width adding 90cm to table length. Most of the tables can seat 6-8 diners without any addition of any other table.
The chairs with the Louis dining table range are usually made of solid oak. Some of these chairs have bycast leather seats, some have padded bycast leather seats and some are classic leather upholstered chairs with solid oak legs. Mr. Shamim said, "We have an extensive range of oak dining chairs in our Louis range of dining tables. These chairs are available in cream, brown and black padded seats. Our customers can choose any set of chairs with the Louis range of dining tables. This can give exclusive look in their dining rooms with lavish dining experience."
FurnitureInFashion has used naturally forested oak throughout the Louis dining table range to provide durability and style. The dining tables have been made in a finger jointed design in an oiled oak finish for long lasting and chic table. Asad said, "Our Company's philosophy is to provide the purest form of oak. We have special team involved in choosing the most natural of oak for making of Louis range of dining table sets."
Louis range provides enormous space to adjust family members and guests. Mr. Shamim said, "In a very busy and fast life, FurnitureInFashion has provided Louis range to bring families together at one place and spend quality time. A family can hang around each other in a dining room and enjoy unforgettable meals."
FurnitureInFashion is offering a wide range of dining room furniture including dining tables, sideboards, side tables, dining chairs, shelving units and other contemporary furniture for a beautiful and unique dining experience.
About FurnitureInFashion
FurnitureInFashion is a UK based online retail business. It supplies furniture items from its German based warehouse and has a showroom in Bolton, UK. The company provides everything from umbrella stand wall art and room dividers to bedroom, bar stools and computer tables. FurnitureInFashion offers excellent free delivery within UK and has a fantastic customer service as well. For further information and details about the sale, visit http://www.furnitureinfashion.net