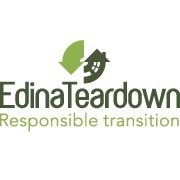 Tremendous Integrity builds better relationships.
Edina, Minnesota (PRWEB) September 04, 2012
Announcing an industry leader in home rehabilitation and restoration, EdinaTearDown.com. In just a couple of short years, teardowns have become a national phenomenon in the real estate housing market. Signaling a trend that had caught the eye of a local real estate expert that had a vision and a desire, Jesse Olson, from the Jesse Olson Group at Coldwell Banker Burnet, had made his dream a reality. "It was a thought I had one day many years ago. If only I could build a business plan that would evolve and regenerate the economy and help create jobs." Little did Jesse know that he would be doing exactly that two years later.
What is a teardown? In short, removal of an older home and constructing a brand new one is the definition of a teardown. In 2011 alone, over 50 homes were demolished to make way and erect brand new custom built homes. Despite the sometimes "less than exited" news local Edina residents hear on an almost daily basis, Edina teardowns are here to stay for the next few years.
Responsible reconstruction has always been top of mind for Jesse and his team. Among all construction processes lag questions about service as well as the quality. Construction is dirty, noisy and at times overwhelming. What consumers need to know is that quality of work is never sacrificed. Jesse strive's to work builders who work alongside the Edina city council and help enforce "Construction Management Plans". This ensures respect to surrounding neighbors as well as a reminder to our builders to stay aware of their surroundings. Jesse is creating hundreds of jobs, which speaks volumes for the community, and he is slowly reviving the housing market one home at a time.
Jesse Olson has over eight years of Minnesota Real Estate experience. The Jesse Olson Group has consistently set the standard for innovation and pace in the Minneapolis real estate industry. In the past four years Jesse has been ranked in the top 1% of sales agents in Minnesota with over 250 units sold and over $60 million in volume. Jesse is a graduate from the University of Iowa and has an extensive background and in-depth knowledge of the finance, mortgage, and banking industries. He currently resides with his wife and son in the White Oaks Neighborhood of Edina.