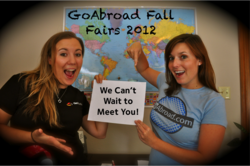 Meet GoAbroad reps this fall to learn more about international education opportunities around the world!
Fort Collins, CO (PRWEB) September 11, 2012
As students begin to settle in to the fall season and adjust to new classes for the semester, GoAbroad.com is excited to share the details of the 2012 Fall Fair and Campus Visit schedule.
This time of year is a great time to be thinking about international education opportunities, and representatives of GoAbroad are looking forward to bringing resources and advice direct to students fingertips. In addition to the ongoing GoAbroad Roadshow, representatives will be attending a diverse array of events around the country, including a number of NAFSA: Association of International Educators and other international education conferences.
For students, organizations, or individuals interested in meaningful travel, GoAbroad reps would love to connect.
GoAbroad extends this invitation to check out the monthly schedules for where each of the GoAbroad Representatives will be visiting. Specific information may be acquired by clicking on the corresponding link that directs to the international education office or organization organizing each event.
Click here to view the 2012 GoAbroad Education Abroad Fall Fair & Campus Visit Schedule!
GoAbroad.com looks forward to meeting many new and familiar faces over the next few months.
About GoAbroad
GoAbroad.com has been the web's premier resource for meaningful international experiences and alternative travel opportunities for more than a decade. The site boasts the largest and most comprehensive travel directories available online, while providing the most up-to-date and accurate information on programs available worldwide. GoAbroad.com's GoMedia services also offer a distinct range of internet marketing solutions for international education, including website design and comprehensive social media management.