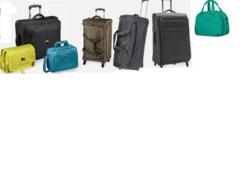 It is such a wonderful experience interacting daily with our customers
Kent (PRWEB UK) 1 September 2012
The buzz in social media sites has been on a continual rise and for good reasons too. Social Media is a massive part of the internet industry and Luggage Superstore has jumped on the band wagon to be able to interact with their customers. Most would use the sites to keep in touch with friends and family but as a business we use the Facebook,Twitter,Google Plus, daily Press Releases and soon to add Youtube and Blogs to connect with our customers.
Usually it is lack of communication that tends to lose a customer and part of Luggage Superstore's policy is to keep customers up to date and informed as far as possible with info sites that might seem useful and Luggage Superstore believes to be able to interact with the public on a platform that is enjoyed by most has been an enormous marketing tool for the business.
Trina Chee-a-kwai , Marketing Executive at Luggage Superstore says:- "It is such a wonderful experience interacting daily with our customers. Our customers are real, we are real, and we will hope to continue to launch our monthly competitions, which make using the social media site all exciting. We would wish to encourage people to keep looking out for our competitions and share the news with their friends to join in too."
Luggage Superstore's main aim in using the current social media sites is to show that there are real people behind the interaction taking place with the team at Luggage Superstore and the team loves keeping this banter going with customers. Luggage Superstore plans in the near future to be throwing out questions to customers so that their input can help improve their service offered to the public.
Luggage Superstore established site is in West Kingsdown, Kent. Their aim is providing competitive prices of the highest quality luggage and top calibre Customer Service for online luggage shopping.
Trina Chee-a-kwai
Luggage Superstore
01474 854666
Email information