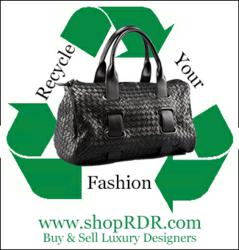 By one estimate, used clothing is now the United States' number one export by volume.
Houston, Texas (PRWEB) September 03, 2012
With popular retail store Forever 21 scheduled to bring its brand of fast fashion to Houston's Galleria mall and Swedish chain H&M set to open its first South American store in early 2013, Rodeo Drive Resale (http://www.shopRDR.com), premier reseller of 100% authentic guaranteed handbags and fashions including discount St. John Knits, Louis Vuitton bags and David Yurman jewelry, further explores the odyssey of clothing caught up in the fast fashion boom.
"[By] one estimate, used clothing is now the United States' number one export by volume," writes Elizabeth Cline in her book Overdressed: The Shockingly High Cost of Cheap Fashion.
Once bought, an estimated 21% of yearly clothing purchases stay in the home, according to the September 2006 report, Recycling of Low Grade Clothing Waste, by consultant Oakdene Hollins. While consumers of fast fashion (cheaply and quickly made retail clothing) often imagine their discarded pieces are met with open arms by donation stores and charities desperate for second-hand merchandise, this is not always the case.
Because of the large quantities of throwaway garments given to organizations such as the Salvation Army and Goodwill, many of these items do not end up where you think: Once unwanted fast fashion pieces, usually "inspired" by top level fashion houses such as Yves Saint Laurent and Chanel, go from the retail sales rack to the consumer's closet and then to a donation store, they are often moved along yet again, as many charities are taking in more used items than they can handle.
These clothing stockpiles, once a welcomed commodity in other parts of the world, are becoming a tougher sell even in under developed countries. As regions of Sub-Saharan Africa begin to connect more with current fashion trends through the web, they are quickly learning to discern between quality pieces and items that they, like their Western counterparts, would only wear a few times then toss aside.
ShopRDR.com encourages fashion lovers to consider purchasing from its inventory of gently used clothing and accessories, many of which are still in like-new condition. At Rodeo Drive Resale, buyers can shop online for brands such as St. John Knits, Prada, Jimmy Choo, and more. Depending on the popularity of the site, sellers may range from individual clients, high profile celebrities or even actual boutiques. Items are guaranteed authentic and, unlike many of today's fast fashion pieces, are designed to last for several seasons.
ShopRDR.com loves high-end fashion, and believes finding a high quality, classic piece should be an easy, enjoyable -- and most importantly -- hassle-free shopping experience. For the finest in Louis Vuitton, Chanel, Prada, Gucci, St. John Knits, Christian Louboutin, Tiffany & Co. and more, visit RDR online at http://www.shopRDR.com or call 1-888-697-3725.
Also find shopRDR at:
Facebook: facebook.com/shopRDR
Twitter: twitter.com/shopRDR
YouTube: youtube.com/ shopRDR
Pinterest: pinterest.com/shopRDR
Rodeo Drive Resale (shopRDR.com)
1-888-697-3725
service(at)shopRDR(dot)com