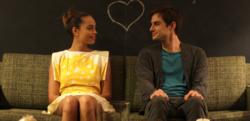 NewFilmmakers Los Angeles celebrates emerging talent in the film community, featuring local and international content.
Los Angeles, CA (PRWEB) September 04, 2012
The number one destination for cinema lovers has always been the movie theater. Over the past decade there have been countless unforgettable big budget motion pictures from some of the most talented and celebrated filmmakers who have ever lived. Recently, however, Hollywood executives are rethinking the tent-pole blockbuster business models that currently serve as the breadwinners for movie studios and television networks including Universal, Viacom, Warner Brothers, Disney and Sony among the other majors.
After the 2012 box-office flops 'John Carter', 'Battleship', 'Total Recall', 'Abraham Lincoln: Vampire Hunter' and 'Ghost Rider Spirit of Vengeance' it is becoming more apparent that audiences have turned their attention toward the independent film community and the alternative cinema it has to offer.
Just this year the wide release market has embraced independent movies such as '2 Days In New York' from writer, director and star Julie Delpy, 'Moonrise Kingdom' from writer, director and producer Wes Anderson with an all star cast including Edward Norton, Bruce Willis and Bill Murray, the Sundance and Cannes Film Festival Award Winning 'Beasts of the Southern Wild' from director, writer and composer Benh Zeitlin and 'Celeste & Jesse Forever' starring Elijah Wood, Emma Roberts, Rashida Jones and Andy Samberg from director Lee Toland Krieger.
The demand for independent film has proven to be on target for the festival market as well with audiences flocking to the monthly NewFilmmakers LA Film Festival. The organization showcases independent films from around the world making their Los Angeles debut. These screenings take place on the legendary Sunset Gower Studios movie and television lot in Hollywood, with highlighted filmmakers in attendance and a red carpet gala in the festivals stylish lounge throughout the evening.
NewFilmmakers Los Angeles celebrates emerging talent in the film community, featuring local and international content. Monthly events offer an eclectic lineup of films, across a variety of genres and subject matters, and feature filmmaker Q&A's after each program. A screening after party brings the opportunity to meet and connect with filmmakers, casts, and crew, while enjoying music in a lively atmosphere at this LA film festival.
In the past year, NewFilmmakers Los Angeles has screened films such as 'A Sense of Humor' (starring Glee's Heather Morris), 'Queen' (starring 90210's Ryan Eggold), 'Mayhem' (starring ABC Family's Secret Life of the American Teenager's Katelyn Tarver), and 'Mushroom Pizza' (featuring Cooper Barnes from FOX's upcoming In Living Color reboot).
Featured short films screening on September 21st 2012 include:
Neighbors (20 minutes USA)
Directed by Rachel Goldberg
When a quirky shut-in gets a feisty new neighbor – a transgender woman in an abusive relationship – the two begin a strange friendship that allows them both to break free.
Director Rachel Goldberg was named one of "30 Emerging Filmmakers to Watch" by FIND: Film Independent which runs the LA Film Festival. Neighbors was created as part of AFI's Directing Workshop for Women, and features an all-star cast including Kelli Garner (ABC's Pan-Am, Lars and the Real Girl, Going the Distance), Edi Gathegi (the Twilight series, X-Men: First Class, Fox's House), Sasha Roiz (NBC's Grimm, SyFy's Caprica, FX's It's Always Sunny in Philadelphia), Mageina Tovah (Spiderman 2, Spiderman 3, HBO's Hung), and Danny Woodburn (NBC's Seinfeld, Mirror Mirror)
The Distance Between (10 minutes USA)
Directed by Emily Ting
Jen & Ian have been roommates for 1 year and 37 days. They've been secretly in love with each other for 1 year 26 days and 23 hours. Every day they go through their morning routines while planning a 'spontaneous' encounter with each other.
Starring Amber Stevens (The Amazing Spider-Man, ABC Family's Greek), and Andrew J. West (The CW's Privileged).
The Missing Key (30 minutes Australia)
Directed by Jonathan Nix
In a richly re-imagined Venice of the early 1920s, young composer Hero Wasabi must compete against the unscrupulous Count Telefino in the prestigious Abacus Scroll musical competition.
The Missing Key has enjoyed a myriad of success from the Santa Barbara Film Festival where it was named Best Animated Short Film to a nomination for AFI Festivals Best Short Animation and other highly acclaimed festivals globally.
Australian director Jonathan Nix is no stranger to animation; his first short animated film 'Hello' (2003) has won many awards including the Fipresci Film Critics prize. His second film 'the twelve months' also did well on the festival circuit and won at festivals including Les Nuits Magiques.
Behind the Mirrors (12 minutes Peru)
Directed by Julio O. Ramos
A young husband, and soon-to-be father, manages a sleazy motel with his wife. When one of the night's customers leaves behind an unexpected mess, the husband's keen eye for opportunity and quick thinking may change their fortunes forever.
Peruvian filmmaker Julio O. Ramos is a student Emmy, BAFTA and DGA award winner for his films Ee Bolerito (The Shoe Shiner) and Una Carrerita, Doctor! (A Doctor's Job!). Both films were produced at the UCLA School of Theater, Film and TV where Julio currently pursues his MFA in film directing.
Elegy For A Revolutionary (22 minutes USA)
Directed by Paul Van Zyl
Based on a true story. Encouraged by his friend, a young, idealistic journalist joins the African National Congress (ANC) to protest apartheid. When their acts of sabotage turn to murder, the relationship falls apart. With a country divided and loyalty strained, two men are forced to choose sides and suffer their fate.
Stars Brian Ames (Lifetime's Drop Dead Diva, ABC's GCB).
Bordando la Frontera (Embroidering the Border) (23 minutes Mexico / USA)
Directed by Rene Rhi
Miguel Canales learns that his young daughter has a brain tumor and needs surgery. Running out of options, he decides that his only choice to pay for the operation is to work in the United States. After paying a considerable fee, a smuggler agrees to guide him through the desert. As they attempt the perilous desert crossing, they come across Tammy, a disoriented 9-year-old girl.
The Epiphany (18 minutes USA)
Directed by Ella Hatamian
It's January 5th, Armenian Christmas Eve, and the Hatamian family only has 15 minutes to complete their preparations for the annual holiday feast. As the family feuds we are brought into the intimate life of the family's togetherness.
Shanghai Love Market (9min. China / Singapore)
Directed by Craig Rosenthal
Every weekend in Shanghai's famous Peoples' Park, parents hang posters to match-make their unwed children. But when true love is at stake, sometimes even the best-laid plans have a funny way of coming undone.
Shanghai Love Markets has enjoyed success at the Palm Springs International Short Fest, Tokyo Short Shorts, LA Shorts Fest, Asian Short Film Festival, and many others.
For more information on purchasing tickets for the September 21st screening or to submit your film, please visit http://www.newfilmmakersla.com. Short, feature and documentary film submissions are currently being accepted for consideration of future NewFilmmakers LA film festival screenings.
About NewFilmmakers Los Angeles
NewFilmmakers Los Angeles (NFMLA) is a non-profit 501(c)3 organization providing the Los Angeles community of entertainment professionals and film goers with a constant surge of monthly screening events. NFMLA continues to provide a forum where filmmakers can be recognized for their contributions, have open audience discussions about their projects and connect with industry professionals for insight on distribution, production, acquisition and representation.
For more information about NewFilmmakers Los Angeles, please visit: http://www.newfilmmakersla.com