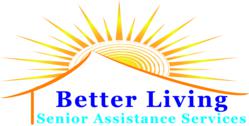 Paying for in-home care is one of the biggest issues facing families with aging adults today. It can become very costly for those who have not really planned or prepared for this or have little liquid assets available.
Tampa, Florida (PRWEB) September 10, 2012
With the election less the two months away, the topics of social security and medicare have been highly debated. Each political party's budget plan which will affect the funding for social security and medicare. Many senior citizens are worried about how this will affect how they will pay for in-home care. Now more than ever, it is important for senior citizens to know all the available payment options for in-home care.
BetterLivingSeniorServices.com has released a tip sheet with the best payment options for in-home care:
Long Term Care Insurance. You should consider getting long-term care insurance in advance of the time when you can no longer perform the ordinary activities of daily living such as bathing, dressing, using the bathroom and preparing meals. When you purchase Long Term Care Insurance you actually purchase a pool of money to be used at a later date. The policy will last as long as you have money in your pool of coverage. Your pool decreases as you use the money for your care. The best time to buy LTC is when you are young and healthy, however, the average age of people who buy LTC is 64.
Medicaid programs. Your loved one may be eligible for a government-sponsored program. There is usually a wide range of programs available within Medicaid for the purpose of home health care but Medicaid may cover these kinds of expenses only for those who meet its financial requirements and benefits can be hard to obtain. Additionally, Medicaid laws vary from state to state.
Veteran Administration. Most Veterans think that VA pensions are only for service-connected disabilities, however, a non-service connected pension is available to low income Veterans for conditions such as Parkinson's, Alzheimer's and Dementia. If you are over 65 and need help from someone to bathe, prepare meals, dress or ambulate, you could be entitled to this benefit.
Private Pay. There are several ways personal and family assets can be used help pay for in-home care, including tapping into the equity in your loved one's home. If your loved one owns a home a reverse mortgage may be a way to convert the home equity into cash to pay for home care. This should be seriously considered because the home will not be available later to be passed to family members. It is a very common scenario for siblings to come together to pay home care by gathering contributions from those family members who aren't actively helping with daily care.
Medicare. Medicare covers home health care that is temporary and part-time. It's a common misconception that medical insurance policies and Medicare will pay for long-term care expenses. This misconception stems from the fact that these programs do pay limited benefits for rehabilitation and recovery at a skilled nursing facility immediately following a stay at a hospital. But they won't pay for the more common situation where you decline slowly and eventually need help with daily living activities, without a preceding stay at a hospital. Medicare simply doesn't pay for "custodial care" that supports activities of daily living like dressing, bathing, and using the bathroom.
Churches. Many churches have become a local resource for free home health care. They may have programs in which their members volunteer to provide free in-home care for those in need.