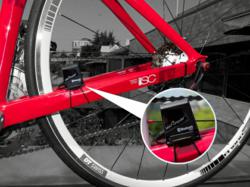 We've been working hard for the last 6 years developing 1-degree precision Bluetooth Smart Sensor for bicycles" said the founder, Vlad Savchenko. "and now asking the Kickstarter community for help to accelerate the sensor manufacturing
Sunnyvale, CA (PRWEB) September 05, 2012
SoundOfMotion is launching a campaign on Kickstarter.com pledging to the Kickstarter community for help accelerating the manufacturing of its new VeloComputer 1-degree precision Bluetooth Smart Sensor for road, track and mountain biking. The new sensor uses Bluetooth 4.0 (low energy) technology and is compatible with selected Android phones and iPhone 4S.
The main sensor body mounts on the chainstay, while the small magnetic field sensor, connected via wire, is positioned next to the rear hub. The sensor measures wheel rotation with unprecedented 1-degree accuracy, as well as cadence and grade of incline. It is powered by a standard coin cell battery and packaged in a waterproof and rigid case.
SoundOfMotion's innovative wheel sensing technology is at least 360 times more accurate than traditional cycling computers. The VeloComputer wheel sensor detects a magnetic field from a magnet attached to a spoke on the rear wheel and determines the angle of a rotation with 1-degree accuracy. This accuracy reduces speed latency from 7 seconds in traditional bicycle computers to less than 1 second. It allows VeloComputer to accurately determine spot speed and instant acceleration, which is used to calculate torque, forces and power.
"Over the last 6 years we've been working hard researching, developing and fine tuning our 1-degree precision Bluetooth Smart Sensor for bicycles" said the founder, Vlad Savchenko. "Now we are going into mass market production and asking the Kickstarter community for help to accelerate the sensor manufacturing."
The new VeloComputer Smart Sensor can be pre-ordered through kickstarter.com. SoundOfMotion offers the first 50 sensors at cost for $99, the next 500 sensors for $149 and the next 1,000 will be available for $179. The retail price is set at $200. There is also a team package of 8 sensors available for $1,249 that includes VeloCoach tablet application for cycling coaches.
About the company: SoundOfMotion is unique in its focus on developing innovative technologies for mobile devices and sports applications. SoundOfMotion is a finalist in Bluetooth Innovation World Cup 2010 and 2011 and the winner of the Orange Design and Innovation contest. SoundOfMotion was featured in CTIA Wireless, 'Mobile Rules!' by Nokia, 'Top 10 Bike Gadgets' by PC Magazine, Pro-cycling magazine, Bikeradar.com Popular Science and other media.
About Kickstarter.com: Launched on April 29th 2009 Kickstarter has grown to become the world's largest founding platform for creative projects. It is powered by a unique all-or-nothing funding method where projects must be fully-funded or no money changes hands.