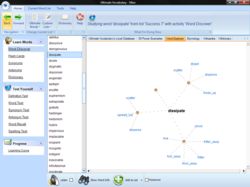 "Having a good vocabulary can have a huge change and impact to a person's career, life, grades and school success.
New York, NY (PRWEB) September 01, 2012
To help improve the word knowledge of adult students, Ultimate Vocabulary is in full support of the lexical approach - that is, treating vocabulary as existing in "chunks" of words, or phrases that go together which was authored by Lewis way back in 1993. It's not a new method of teaching vocabulary but is recently gaining attention again when it comes to adult education.
By looking at the larger phrases, it makes it easier to learn the vocabulary words since they can be quickly connected to their meaning, using the context of the phrase. For this reason, the lexical approach is practical, effective, and sound, especially with adult learners who already have a basic working vocabulary in the language.
According to Marc Slater of Ultimate Vocabulary, "Having a good vocabulary can have a huge change and impact to a person's career, life, grades and school success. The lexical approach as it is presented in Ultimate Vocabulary software is the best way for adult learners to grow their word knowledge. The program helps students learn at a faster rate and more easily than any other program on the market today."
Unlike other methods of learning, the lexical approach,looks at common phrases rather than sentence structure. Students are given chunks that consist of collocations, fixed and semi-fixed expressions, and idioms. Chunks can be applied to daily communications, making the lexical approach very helpful and useful to adult learners. Ultimate Vocabulary incorporates this technique into its advanced software system for adult learners to help them maximize their study time, using a personalized approach that allows users to pick references and text examples according to their own interests and study goals.
For more information on the vocabulary improvement techniques and features in the software and how these can benefit both adults and children, please visit: http://www.ultimatevocabulary.com/
******
About Ultimate Vocabulary™
Ultimate Vocabulary provides a proven and powerful platform, built to improve anyone's vocabulary.
The interactive self-improvement system provides more learning tools than any other program on the market, as well as more information on words.
The Ultimate Vocabulary software provides each and every user with a personal computer tutor. Providing a step-by-step guide to learning a powerful vocabulary, Ultimate Vocabulary is the learning tool everyone can benefit from.
Of course, the software is also backed by eReflect's iron-clad money back guarantee.