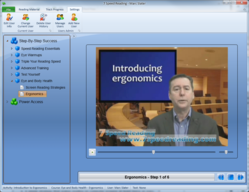 It's absolutely essential that all adults and children have the reading skills to take control of today's information overload.
New York City, NY (PRWEB) September 01, 2012
Australian libraries and library associations are partnering with government, media, schools, publishers and book sellers - among others - to support reading initiatives across Australia. The campaign, dubbed "National Year of Reading 2012," will bring together and showcase projects and organizations that promote reading and literacy in Australia.
Currently, 46% of all Australians cannot read fluently. The organizers of the campaign believe that this percentage can be greatly reduced if everyone understands the benefits of reading. Several events and contests will be held throughout the year, including writing contests, photo competitions, reading challenges, and story-telling competitions. People of all ages will have a variety of events to choose from.
The National Year of Reading 2012 is supported by the Australian Government through the Office for the Arts and the Department of Education and the Copyright Agency Ltd. It is funded by the Sydney Myer Fund.
Marc Slater, the Managing Director behind 7 Speed Reading Software, has shown his support for this campaign. "Faster reading can make a big difference in someone's life and career," says Mr. Slater. "It's absolutely essential that all adults and children have the reading skills to take control of today's information overload," he adds. This speed reading software from eReflect can help Australians achieve the goals of the National Year of Reading, by teaching users how to read faster (between 600-1000 words per minute, rather than the average reading speed of 250 words per minute). In addition, 7 Speed Reading supports one of the main goals of the National Year of Reading 2012, that of promoting a "reading culture" in Australian homes. 7 Speed Reading's multi-user capability makes the program suitable for use by the whole family, and includes a variety of reading material for all ages, including self-help books, business guides, classic novels and children's books.
To find out more about the software's advanced features, please visit: http://www.7speedreading.com
About 7 Speed Reading™
7 Speed Reading is the only modern speed reading software that uses the latest technology to produce superior results.
The software provides its users with a new way to master speed reading that guarantees three times the reading speed along with improved memory and comprehension.
The software is poised as the most comprehensive speed reading system anywhere. It contains seven learning strategies, fifteen software activities, video training, advanced tracking capabilities and many more exciting features.